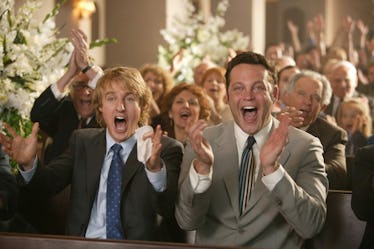 3 Reasons It's Totally Rude To Crash A Wedding, So Please, Don't Be That Person
To most people, the movie Wedding Crashers is a lighthearted comedy romp — with some gender politics that, umm, let's be honest, have not aged all that well. However, to people deep in the throes of planning a wedding, it's a bone-chilling horror film that feels all too real. There are plenty of reasons it's rude to crash a wedding, but making anyone feel that uneasy on their special day should easily dissuade you from considering crashing. Sure, Owen Wilson and Vince Vaughn made it look like showing up at weddings uninvited is just all fun and games; a victimless crime that may even lead to true love — so long as you avoid the "stage five clingers." (Like I said, not-so-great gender politics.) But in real life, just showing up uninvited has the potential to ruin the bride or groom's day, be awkward AF for everyone, and possibly even ruin friendships.
But what exactly qualifies as a wedding crasher? Well, there are few different types: There's the stranger who just wants to sneak in for a free meal; there's the uninvited guest who just decides to show up anyway; or the person who was invited, RSVP'd no, but changed their mind at the last minute; and, of course, there's the uninvited plus one. All are rude, and mean unwanted drama and strife for your hosts on their wedding day. And why is it such a big deal? Well, here are three very good reasons that will make you think twice about just dropping in.