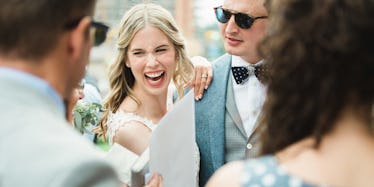 What Happens When You Crash A Wedding, According To 9 People Who've Done It
Stocksy
If you've ever seen the movie "Wedding Crashers," I'm sure you've imagined what it would be like to put on a dress or a nice tuxedo and spend the night dancing and laughing in a room filled with complete strangers who've mistaken you for just another wedding guest. It sounds like a night of endless thrill, where you can be anybody you want.
If you've ever wondered what it would be like to cheer with a bunch of bridesmaids while they ask you how you know the happy couple or pose for pictures with other wedding guests you'll never see again, look no further: Here are nine people who admit what it was really like when they crashed a wedding.
Spoiler alert: It wasn't always as glamorous as they thought it would be.
1. "We got thrown out."
I went to a wedding in March, at a banquet hall where there were three weddings happening at the same time. That's a recipe for a wild night of fun in my books. I grabbed a few drinks at the open bar with a few of my guy friends, and we hit up the two other weddings. Within seconds, we were kicked out of the first. Then, after two minutes of sneaking into the second one, we were kicked out of the venue. I don't think the bride and groom from our wedding ever found out.
– Joey N, 25
2. "Nobody even noticed."
I was bored on a Saturday night, so I tossed on a tux and went to a popular local spot that hosts big weddings. I think there were over 500 guests there, so nobody knew who I was or that I wasn't invited. I hugged people hello. I found the place card for a person who didn't show up and sat at their table. I spent the whole night there, and nobody had any idea at all.
– Seth G, 28
3. "I got a date."
A friend texted me that he was bored at a wedding, so he asked me to just come and hang. I showed up and hid in the back of the room with him for the night. There were so many single girls there. I ended up getting a girl's number, and I dated her for a few months. She never found out that I wasn't supposed to be at the wedding. We hardly ever talked about it.
– Craig J, 31
4. "The food was incredible."
It was Saturday, and I was hungry. I had left a family event at my church, and I saw that they were setting up a wedding there. I went back a few hours later and snuck around the reception of the wedding. I didn't know anyone there, and nobody seemed to realize they didn't know me. They brought in food from a local restaurant and I ate like a king. I even took home leftovers. I scored a few meals that lasted me for a few days.
– Joel P, 23
5. "The father of the groom asked for help."
I got into a fight with my girlfriend at a wedding, so I walked outside and saw that there was another wedding happening at the restaurant across the street. I went over there and was walking around for a while. The father of the groom stopped me. I thought I was busted. He asked if I could help move some tables around because he thought I was one of his son's friends. I agreed, and helped him move tables and set things up. He hugged me and said that he's so happy his son has friends as awesome as me. I have never met his son in my life.
– Michael C, 29
6. "I scored a party favor."
The best part of crashing a wedding is taking home free stuff. I do it all the time. I show up at weddings at around 11 pm, when everyone is drunk. Nobody knows where they are or who they are with, so no one notices. I ask the servers to pack up food for me, and I take home a handful of party favors. I do this once a month.
– Andrew J, 25
7. "It started a huge brawl."
I accidentally found myself at someone else's wedding. The venue I was at had two weddings going on at once, and I was just trying to find the open bar for the wedding I was invited to. I couldn't find it, and I ended up at the open bar for the other couple. I grabbed a drink and hit on some chick. Her boyfriend got pissed and started throwing punches. I left with a black eye, and didn't get her number.
– Danny H, 25
8. "I lost my phone."
My friend and I drove by a wedding hall and parked the car. We were dressed nicely because we were going clubbing, and so we blended in. I think about 300 people were there. We were on the dance floor for an hour or so, and when we left, I realized I must have dropped my phone. I lost it for good.
– Blake M, 29
9. "I hooked up with a bridesmaid."
I was a groomsman for my best friend from college. At his wedding, there was another wedding happening in the smaller room next door. I somehow ended up there, and met the love of my life. Well.. maybe not life, but night. She was hot. I ended up hanging with her at her wedding because she was a bridesmaid. Then, we went back to my wedding. And then, my hotel room.
– Leo L, 22