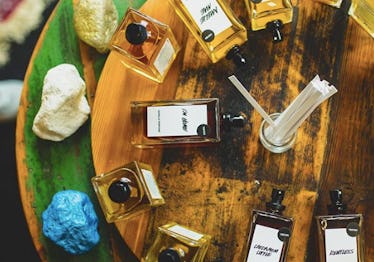 Lush Just Teased Three Secret New Products & Lushies Are Going Wild With Excitement
lushcosmetics on Instagram
Just as Lady Gaga's fans are called her "Little Monsters" and Beyonce's formation prides themselves in sharing a spot in the "Beyhive," Lush Cosmetics' faithful consumers have been dubbed "Lushies." Cute nicknames aside, these three fan groups have something else in common: they pick up on every hint dropped on social media in an effort to be the first on the new launch. And according to the Instagram post on the company's account, three Lush Cosmetics fragrances are on the way. Pause for applause.
The Instagram post shows a closeup photo of a hand misting something out of a spray bottle. The caption simply says, "Something big is coming. Sign up for our e-newsletter and be the first to know about this limited-edition release," inviting customers to receive Lush Life emails so they can be the first to know what this product actually is and when it's coming. In the comments, Lushies from all around the world began to dissect the post in search of clues. Some wager it's a room spray, while others argue it must be a body spray. Luckily, I just made a new friend at the handmade cosmetics company, so I immediately reached out for answers.
Unfortunately for me (and my fellow Lushies out there), my friend on the inside is keeping tight lipped about the upcoming launch. However, I was able to get just enough information out of him to put the Instagram-comment debate to rest. Drumroll please.
It's not a room spray — it is in fact a fragrance. Well, actually, it's three new fragrances. "The highly-demanded products hailing from the U.K., that bring new life to three of Lush's iconic fragrances, are now COMING SOON to North America," he said. "Disclaimer: They will only be available for a limited time, while supplies last, so Lushies will need to get IN FORMATION to get their hands on this #freshnewlush."
Upon further pressing (because when it comes to new launches, I can get kind of pushy), he said, "what I can say is they will make the perfect summer scents. Some include Lushie scents of products that have gone viral recently and these products are dedicated to our Lushies."
OK, let's look over the facts, shall we? It's definitely a fragrance launch, we already know that. The scents are inspired by three Lush products that have gone viral recently. Finally, they're perfect for summer. What products recently went viral that smell like summer? Any guesses?
The brand isn't new to creating body sprays inspired by scents of other items. They've already released Twilight Body Spray ($30; lushusa.com), a spinoff of their nighttime Twilight Bath Bomb and Sleepy Body Lotion, which do wonders for putting you to bed. The new launch is something just like this: a spinoff of a cult-favorite product already on the lineup.
Back in December, Lush Cosmetics posted a poll on their Instagram account with two shower gels photographed side by side and the caption, "it's the cult classic shower gel showdown! Vote ❄️for Snow Fairy and 🌹for Rose Jam." Rose Jam Body Spray ($40; lushusa.com) already exists, so maybe we're in for the upcoming launch of a new Snow Fairy body spray? A girl can dream, can't she?
Either way, something is coming. Well, actually, three new somethings are coming. Because I hate surprises, I'll be over here racking my brain for more clues. And in case you're just as bad at receiving surprises as I am, you can still sign up for Lush Cosmetics' newsletter (currently dedicated to dropping hints about the new launch) and hope to score the first real intel.