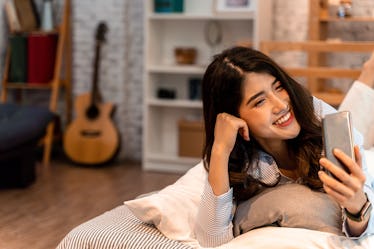 These 3 Personality Types Make Quarantine Dating Look Oh So Easy
Shutterstock
The truth is, dating during a pandemic simply isn't for everyone. There are some who shudder at the thought of getting to know someone virtually and having to come up with creative FaceTime date ideas. On the other hand, there are certain Myers-Briggs personality types who excel at quarantine dating — and I'm not just talking about the ones who are most likely to stock up on snacks or make a mean quarantini (though both are major bonuses, TBH).
Here's the thing: Every single personality type has their own strengths in quarantine. ISFPs will show immense compassion, ENFJs will act as your own personal cheerleader by motivating you to be productive, and ESTJs will make sure you're prepared for literally any possible scenario with all the essentials. Resourceful ESTPs, meanwhile, will come up with inventive new ways to bond, and ENFPs will keep you endlessly entertained on FaceTime simply by being their charismatic selves.
All that said, there are some types who seem to be handling quarantine dating like total pros all around. And those types all have one major thing in common: grade-A communication skills — which are obviously super important when you aren't able to meet up IRL. Since they're good at consistently checking in, they're able to keep building momentum in forming a connection with you, even if you haven't left your respective apartments to hang in person. So, looking for a new quarantine boo? Then keep an eye out for these personality types, who are totally crushing the whole dating during a pandemic thing.