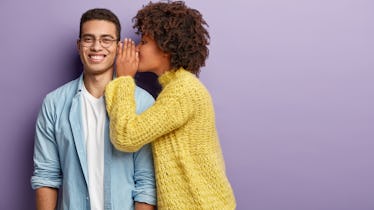 3 Personality Types That Talk Dirty In Bed, So Get Jazzy On It
Shutterstock
When I woke up this morning, I didn't think that I was going to be preaching the gospel of Jason Derulo. Yet here I am, about to tell you that the singer had a point in 2013 when he sang, "all I really need to understand is when you talk dirty to me," in his 2013 single "Talk Dirty." Talking sexily to a partner, either IRL or in the DMs, can be really hot. Sometimes, there's no rhyme or reason: You're just into it. The few Myers-Briggs Personality types that talk dirty in bed to their partners might illuminate why some folks are more privy to the pasttime than others.
For those of you that don't know, the Myers Briggs Type Indicator is a four-part personality test. The quiz aims to help you further understand how you connect with others and where your energy comes from. The test is split into four dichotomies: extroversion (E) or introversion (I), sensing (S) or intuition (N), thinking (T) or feeling (F), and judgment (J) or perception (P). Your type is based on each side of the equation you fall on for each of the four categories.
If dirty talk is totally your thing, you might be one of the following MBTI types.