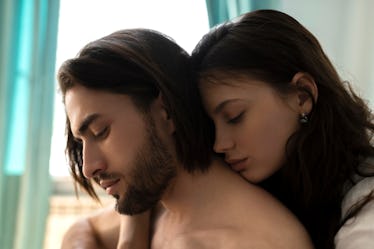 FYI, These 3 Personality Types Are Super Protective Of Their Partners
Shutterstock
Every relationship has its own unique dynamic, and what makes one person feel loved by a partner might send another one running for the hills. Protectiveness is a perfect example of how subjective romance can be. While some swoon when their SO does something to safeguard or stand up for them, highly independent individuals may scoff at the mere idea of it. That's why it's helpful to know the Myers-Briggs personality types that are most protective of their partners.
Before we get into which types fit the bill, it's crucial to clarify that there's a big difference between being protective and possessive. A partner who takes your needs into account and who makes sure you actually want their help before taking action, is being protective. Alternatively, a possessive partner will make decisions without any regard to your wishes or boundaries out of a desire to control you. Possessiveness tends to stem from trust issues, insecurities, and a need for control. Ultimately, the key difference is this: A certain degree of protectiveness is totally fine in a relationship, while possessiveness can never be a part of a healthy relationship at any level.
All that said, it can be helpful to have a sidekick to aid in fighting your battles. That's not to say you aren't self-sufficient, or capable of protecting yourself — but it certainly is nice to know that your SO is looking out for your best interests. If your ideal bae is the kind who will help keep you out of harm's way, look no further than these ultra-protective personality types.