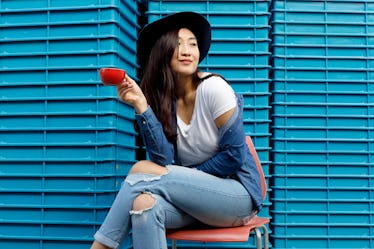 Clinton Kelly Styled 3 First Date Outfit Ideas That'll Guarantee A Second Date
I don't know about you, but whenever I stress out over putting together the perfect outfit for a particular situation, I close my eyes and imagine one thing: What Not To Wear's Clinton Kelly and Stacy London standing in front of my closet, gently guiding me toward a printed wrap dress or the perfect pair of jeans. (What can I say? Old habits die hard.) So, I'm taking these first date outfit ideas from Clinton Kelly very seriously. He knows his stuff.
I asked Kelly for his styling tips for three common date scenarios (a bar, a coffee shop, and a restaurant), and his refreshingly straightforward advice is really helpful. Sure, you could keep texting outfit pics to your group chat for amateur advice, or you could keep scrolling through annoyingly chic #OOTDs on Instagram that make you feel kinda meh about your cute jeans and a top... But why would you do that when you can turn to Kelly, a style expert, TV personality, and spokesperson for Marshalls?
Let's be real — when you're getting ready for a first date, you want to feel as calm and confident as possible. Stressing out over your outfit is the last thing you want to do. So, take a deep breath, remember that you'll look amazing no matter what you wear, and have an incredible time.