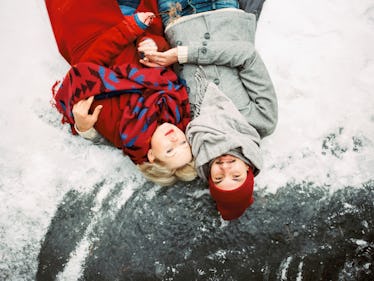 3 First Date Ideas For Winter That Are Super Fun If You Can Brave The Cold
The most romantic on-screen interaction I've ever seen was between Luke Danes and Lorelai Gilmore on Gilmore Girls. Although this wasn't their first date and it's certainly not the only on-screen, romantic ice-skating scene to ever be produced (think Serendipity and Stuck In Love), it's the one that finally convinced me that ice skating is one of the best first date ideas for winter couples.
The episode, "Women of Questionable Morals," appears in Season 5 and, by this time, it's no secret that Lorelai has a lifelong love affair with snow. She explains that all the best things in her life have happened when it snowed and that she can always tell when the first snowfall of the season is near. It all comes to a crashing halt one winter when a blizzard leaves her inn under-booked, the inn's driveway is completely snowed in, and she loses track of the one family who bothered to check into the inn after they decide to go skiing.
Cold and miserable, she decides to break up with snow (and we all know how to difficult it is to break up in the winter)... that is until Luke builds her an ice skating rink in her front yard. Like most of us, she sucks at skating but the whole thing is so cute that neither she nor Luke cares at all.
I'm not the only one whose memory this adorable, perfectly Connecticut scene won't escape. In fact, it's what makes the episode one of the best Gilmore Girls episodes ever released.
The truth is ice skating is one of those things that always looks so romantic on TV but, in reality, probably gets overlooked a lot because no one is willing to brave the cold. If you and your partner don't mind a little frostbite (it's an excuse to warm each other up after!), I still recommend this on-screen favorite, along with a couple other first date ideas for the winter.
Go Ice Skating, Like In The Movies
The cold might not be the only thing holding you back from going ice skating with your partner; you're probably worried about falling and embarrassing yourself because you're not an Olympic skater. But the real reason ice skating is so much fun on a first date is because you're not a professional. I'm willing to bet your partner's skill level is about the same as your own, making it the perfect opportunity to have some fun together without taking yourselves too seriously.
Sometimes, trying something you've both never done before can also be a great way to bond with someone new. It forces you to trust them not to judge you and help you out if you stumble and fall.
Try Sledding Or Tubing
If you're up for a thrill, this is the perfect excuse to get close to your date. The best thing about going sledding is that it requires absolutely no prior experience. Just grab a sled, find a snow-covered hill, and you're all set. Have you seen how much fun the dog who took herself sledding had? That could be you!
Have A Snow Day In The Park
I know, I know. Snow days are for staying in bed, drinking hot chocolate, and binge-watching Stranger Things on Netflix, but those are all things you can get to when you return home from your date. Think snow angels, snowball fights, and tons of Insta opportunities instead!
Cold, dark months don't necessarily mean you have to hibernate with your winter cuff. Even if you meet your new partner online — January is the best month for dating apps — it's still a good idea to venture outdoors every now and then for a cute winter date.
TBH, it'd be risky to date someone strictly through indoor dates for several months without ever seeing them out in the real world. You wouldn't want to commit to a new pair of winter boots without knowing how they handle the ice and snow, so why risk it with a new partner? Suggest any one of these first date ideas, bundle up, and have a blast.
Check out the entire Gen Why series and other videos on Facebook and the Bustle app across Apple TV, Roku, and Amazon Fire TV.
Check out the "Best of Elite Daily" stream in the Bustle App for more stories just like this!