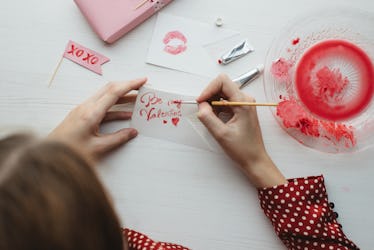 3 DIY Valentine's Day Gifts That Are Unbelievably Thoughtful & Special
I love holidays. I love any excuse to get dressed up, decorate my apartment, take cute Instagram photos, and shower the people I love with a little more affection than usual. As soon as one holiday ends, I'm basically just counting down to the next, which is why I've already lined up tons of ideas for DIY Valentine's Day gifts this year. Before you start yelling at me about how Valentine's Day is just a made-up corporate scheme designed to rob us all and make us feel miserable about being single, well... can you not? Instead, can we just enjoy the chocolate and celebrate the love? And the pink?! At least, that's what I intend to do.
I'm committed to channeling my inner Jessica Day from New Girl by breaking out the crafts over the next few weeks. Since I'm single, I'll probably just be gifting these ideas to my friends but I'm still all about the love, OK? For my last Valentine's Day with a partner, I filled our entire apartment with pink and red heart-shaped balloons to surprise him when he got back from a work trip. I also finally got around to completing a photo wall we'd been meaning to get to since we moved in together. I chose photos of us and our dog — some candid, others posed — to show him how much I appreciated the time we had spent together. TBH, I would have done it even if his return home didn't coincide with Valentine's Day because sometimes it's just nice to remind your partner that you're glad they're around to pick up dog poop with you, you know?
If you're looking for a simple DIY gift for Valentine's Day, look no further. I've listed some of my favorites right here.
A Polaroid Picture Frame
What You'll Need:
A picture frame
Small hooks or push-pins
Twine, ribbon, or string
Clothespins
Hard copies of your favorite pictures
This frame from Etsy is a great source of inspiration for a DIY frame that's perfect for your partner. All you need is a frame that you like. It doesn't have to be new or perfectly painted, especially if you're going for a more rustic look.
Using tiny hooks, like those pictured above, or push-pins, secure rows of twine from one side of the frame to the other. Then, clip your favorite photos of you and your partner to each row and you're done. Fun fact: You don't need a Polaroid camera to complete this look. Tons of websites, like Shutterfly.com, will print your Instagram photos for you in a variety of sizes.
A Candy Bouquet
What You'll Need:
A jar for the base
Floral foam (available at any craft store)
Materials to decorate with like cut-out hearts
Chopsticks to hold up the candy bars
Candy, obviously
Although you can buy one like this, it's so much more fun to make it. I've done this for friends as birthday gifts and it's always a big hit. The best part about doing it yourself is that you can customize the candy to their liking.
Once you've got your jar ready, insert the floral foam to hold the chopsticks in place. This step isn't absolutely necessary but it'll make your life a little easier. Attach the chopsticks to the back of the candy bars and insert into your base at varying heights for the full effect.
A Romantic Picnic For Two
What You'll Need:
A picnic blanket
Your and your partner's favorite food and snacks
Sure, a cute picnic basket will really put this idea over the edge but you don't need it. You can even have an indoor picnic if it's too cold to venture outdoors. If you're staying inside, build a pillow fort like you did when you were a kid and decorate it with fairy lights to add a whimsical touch. Lay out your favorite things to snack on with bae and you're all set.
Even if you don't take Valentine's Day as seriously as I do, it's still a great excuse to do something nice for your partner... just because.
Check out the entire Gen Why series and other videos on Facebook and the Bustle app across Apple TV, Roku, and Amazon Fire TV.
Check out the "Best of Elite Daily" stream in the Bustle App for more stories just like this!