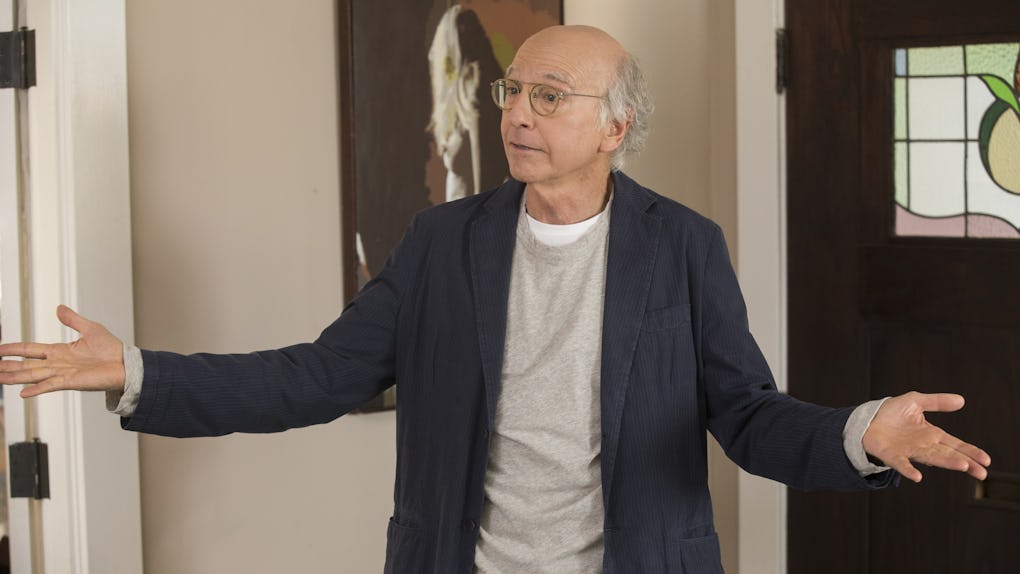 John P. Johnson/courtesy of HBO
3 'Curb Your Enthusiasm' Halloween Costumes That Are Pretty, Pretty Good
If you're at a loss for what to be for Halloween, look no further than the small screen. The fall TV season is underway and there's inspiration at practically every channel change. One show in particular was out of lives for a long five years and finally got new life last month. Yes, thankfully, HBO's Curb Your Enthusiasm recently returned for its ninth season, so — good news! — it's totally relevant again and offers up a great pop culture-approved idea for what to wear when Oct. 31 rolls around. Curb Your Enthusiasm Halloween costumes are a unique approach to that whole dressing up and having to potentially socialize with people thing.
Do you find human contact repulsive? Do you start ridiculous disagreements? Do you respect wood? Do you think you're right all of the time? Do you consider yourself a social assassin? Then you have a lot in common with LA's pettiest man, Curb's Larry David. If you want to achieve his signature style, you have to make very little effort. And that's just the way Larry would want it. If you look up to comedy writers and not superheroes or you can quote every Seinfeld episode, there's a costume for you. In a sea of Jon Snows and Elevens, stand out by being the Larry you always wanted to be this Halloween. Here's how to perfect the Curb Your Enthusiasm look.
1. Everyday Larry David
Larry David has a pretty, pretty, pretty standard uniform when it comes to his usual outfitting choices. One of the best things about being him for Halloween is you'll be comfortable. Plus, if anyone tries to make small talk with you at a party you can just say you're not a fan of the stop and chat. Being Larry requires a unique blend of "I don't care" and "actually I care about every little thing" — it's all a balancing act of ridiculous behavior and frivolous concerns. To get the "Larry," there are four essentials: wig, glasses, blazer, sweater.
Wig, $10.99, Amazon | Glasses, $7.99, Amazon | Sweater, around $22, Amazon | Blazer, around $35, Amazon
Honestly, we recommend you just trim the sides of the bald wig that's meant for a mad scientist, above. Any round-ish thin glasses with gold, tortoise, or brown should do the trick. And you might be able to find a blazer at Goodwill or a consignment shop, or you could go with the a new jacket, like the above. Just remember to wear it a bit oversized. Layering is Larry David's friend.
Top off the look with some relaxed-fit khakis or slacks and some comfy kicks like the Simple sneakers below. Voila.
If you need further inspo, here's Tony Hawk's spot-on interpretation. Sure, he credits professional assistance... but if you can dream it, you can do it!
2. Larry David Incognito
If you're not watching this season of Curb, you might not be aware that a recurring storyline is Larry going into hiding after his Fatwa! musical idea goes awry. Thus, he decides to disguise himself. This version is like regular Larry, only you can ditch the other wig and glasses for more extreme ones. The costume is not only hilarious, it's timely and shows you're up on your pop culture. Bonus points if you team up with someone dressed as Salman Rushdie.
3. Couples Costume: Jeff and Susie
Bonus! If a couples costume is what you're after and you want to think outside-the-box, what about Jeff and Susie Greene? All you need for Jeff is a polo shirt, Cubs hat, and maybe some golf clubs as a prop. Susie loves a loud print and a often works in a hair accessory to make things pop. Endless cursing not included.
Scarf, $2.29, Amazon | Wig, $3.99, Amazon | Shirt, $31.94, Amazon
Enjoy dressing up for Halloween, folks! But feel free to complain about everything the whole time. That's the Curb Your Enthusiasm way.