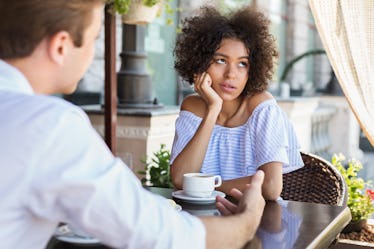 3 Body Language Signals That Mean Your Date Is Bored, So Check, Please!
Shutterstock
Sometimes it takes a while to really build a connection with someone you're newly dating. Other times, a date's just a total dud all around and you have no idea how or why you ever agreed to "meet up" with Chuck from Bumble in the first place. Although it's important to remember that you're not boring and anyone in the world would be lucky to go on a date with you, understanding the body language signals that mean your date is bored can help you redirect the conversation — especially when you're having a good time, but can't get a read on them.
"It would be very practical if there were body language positions that always meant something specific, but there are actually no special signs that at all times mean that someone is bored," Sara Nyström, certified Body Language Master Trainer, country manager of the Sweden Center for Body Language, and founder of Impact Pro, tells Elite Daily. "When we interpret somebody´s body language, it is very important that we keep in mind that the context influences our interpretations."
Though Nyström attests that there isn't a specific body language clue that counts as a literal neon "I'm bored" sign, here are signs that might be able to clue you into a lack of enthusiasm.