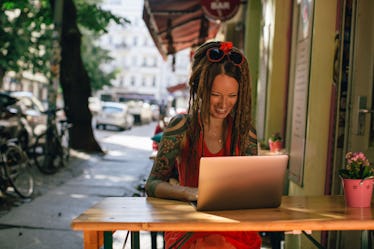 3 Of The Best Things About Being A Digital Nomad That No One Tells You About
Mosuno, Stocksy
It's 2019, which means that you can work from anywhere in the world if you're a digital nomad. You can wake up in a beautiful cottage on a beach in Tulum, or book a flight to Italy at a moment's notice — without putting your career on hold. As a digital nomad, you likely have flexibility with your time, and complete freedom when it comes to reaching your travel goals. It's safe to say, it's a wonderful lifestyle. Here are some of the best things about being a digital nomad that nobody talks about, according to a digital nomad herself — aka, me.
Being a digital nomad is really trendy at the moment. You've probably seen photos of people working on the beach or chillin' poolside with a smoothie in hand as a digital nomad. You've also probably heard that being a digital nomad is the way to go if you want to live your best life.
All of this may be true, but there are certain aspects of the digital nomad lifestyle are not talked about enough. This way of working and living is still rather new. You may be wondering if it's all that it's cracked up to be, so I'm here to tell you about the benefits of being a digital nomad, because I've already experienced them.