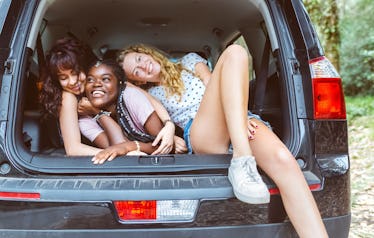 28 Cute Traveling Captions, For When You Lose Your Heart To Wandering The World
Wanderlust is a feeling that never really subsides until you fulfill it. You should want to travel the world in order to see and experience things you never have before. Once you've pinpointed your dream destination and made the arrangements to get there, you need cute traveling captions for all of the the breathtaking pics you'll take.
Maybe you always wanted to go glamping on the West Coast, or lay out on the pristine beaches of Bali. Either way, your wanderlust gives your stomach butterflies when you think about the places on your bucket list.
You see travel bloggers embarking on adventures all the time, and you likely want a piece of the fun. Aside from their incredibly 'Gram-worthy pics, a part of you knows they are truly living the life and they'll never forget the beautiful places they've been to. Even if travel blogging isn't your cup of tea, you're totally down for the travel part.
Everyone deserves a chance to unplug and truly live in the moments that are unfolding in a brand new place. Sure, you'll take many pictures, but the images you capture in your memory will last forever. It's prime time to let that wanderlust lead you to dreamy locations.
Luckily, summer isn't too far off. The sun is out and you're feeling more carefree than ever, so why not pack your bags and hit the road? Before you go darting out the door, make sure you have these 28 captions handy for when you make those adventures a reality.
1. "Let's wander where the wifi is weak." — Unknown
2. "It's not down in any map; true places never are." — Herman Melville
3. "A traveler without observation is a bird without wings." — Moslih Eddin Saadi
4. "Buy the ticket. Take the ride." — Unknown
5. "You don't have to be rich to travel well." — Unknown
6. "Better to see something once than hear about it a thousand times." — Asian Proverb
7. "Take me to Neverland." — Unknown
8. "Where to next?" — Unknown
9. "Traveling — it leaves you speechless and then turns you into a storyteller." — Ibn Battuta
10. "I need Vitamin Sea." — Unknown
11. "Wherever you go, becomes a part of you somehow." — Anita Desai
12. "We have nothing to lose and a world to see." — Unknown
13. "Some beautiful paths can't be discovered without getting lost." — Erol Ozan
14. "When in doubt, travel." — Unknown
15. "Jobs fill your pocket, adventures fill your soul." — Jaime Lyn Beatty
16. "Dare to live the life you've always wanted." — Unknown
17. "We must take adventures in order to know where we truly belong." — Unknown
18. "So much of who we are is where we have been." — William Langewiesche
19. "Awaken the explorer in you." — Unknown
20. "We take photos as a return ticket to a moment otherwise gone." — Unknown
21. "Once a year, go someplace you have never gone before." — Dalai Lama
22. "It's time for a new adventure." — Unknown
23. "I want to make memories all over the world." — Unknown
24. "I've got a crush on the world." — Unknown
25. "Try new things, meet new people, and look beyond what's right in front of you. Those are the keys to understanding this amazing world we live in." — Andrew Zimmern
26. "Travel is rebellion in its purest form." — Unknown
27. "Live your life by a compass not a clock." — Unknown
28. "To my mind, the greatest reward and luxury of travel is to be able to experience everyday things as if for the first time, to be in a position in which almost nothing is so familiar it is taken for granted." — Bill Bryson