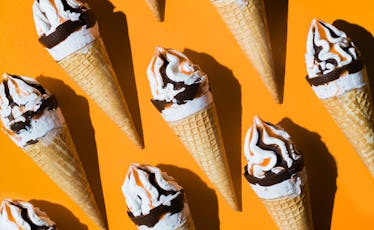 28 Captions To Top Off Your Ice Cream Sundae Pics, Because Cherries Are Overrated
Did you even enjoy your summer if you didn't savor a mountain of ice cream drizzled with chocolate syrup and topped with whipped cream and rainbow sprinkles? An ice cream sundae is one thing from your childhood you'll never outgrow. And if you like big scoops, you'll need clever captions for ice cream sundae pics that'll highlight those rainbow sprinkles even more.
Everyone's sundae expectations are different. Whether it's the kind of ice cream you like or how many sprinkles you add on top, there's really no wrong way to have a sundae, unless you're not having one at all. They're one of the best midnight snacks and comfort foods, and are the perfect dessert to finish off any meal you can think of. Don't even get me started on that whipped cream.
With the demand to photograph everything we put into our tummies these days, sundaes are pretty photogenic. I mean, how could something that sweet, not be? So, before you make those three scoops of your favorite ice cream disappear, take a pic and top it off with something way better than a cherry. You're in dessert heaven just seconds after your first bite, so use any of these 28 captions to describe the frozen frenzy.
1. "Bring on the scoops." — Unknown
2. "Tomorrow we can eat broccoli, but today is for ice cream." — Unknown
3. "Go sprinkles or go home." — Unknown
4. "Ice cream solves everything." — Unknown
5. "I'll stop the world and melt with you." — Unknown
6. "When it comes to sundaes, there's no such thing as too many toppings." — Unknown
7. "All you need is love and maybe a little ice cream." — Unknown
8. "Any day that involves a sundae is the best day of the week." — Unknown
9. "Sundae, fun day." — Unknown
10. "It's always ice cream o'clock somewhere." — Unknown
11. "Does this filter make my sundae look big?" — Unknown
12. "You are the sprinkles to my ice cream." — Unknown
13. "You can't make everyone happy. You aren't a tub of ice cream." — Unknown
14. "Extra sprinkles or it didn't happen." — Unknown
15. "Don't trust anyone who doesn't put whipped cream on their sundae." — Unknown
16. "Training to be a professional sundae eater." — Unknown
17. "I scream. You scream. We all scream for ice cream." — Howard Johnson
18. "Channeling my inner child, one scoop at a time." — Unknown
19. "Whatever your questions is, ice cream is the answer." — Unknown
20. "Pretty please with a cherry on top." — Unknown
21. "The more sprinkles, the better." — Unknown
22. "A sundae will melt your heart each time." — Unknown
23. "A sundae can hold a special place in your heart... and your spoon." — Unknown
24. "Life's hard, but ice cream helps." — Unknown
25. "Let's talk over ice cream sundaes." — Unknown
26. "Keeping cool the best way I know how." — Unknown
27. "It's a sundae party!" — Unknown
28. "You're looking at a sundae entrepreneur." — Unknown