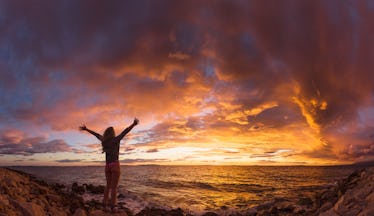 28 Captions For Your #NoFilter Pics This Summer, Because The Lighting Is Perfect
Let's be real — in the summertime, many of us are feelin' in our prime. The sunshine and blue skies put you on a natural high, and we all have a little more pep in our step as we're hitting up a pool party or barbecue with friends. Summer is the definition of living our best lives, and a lot of that comes from the natural beauty surrounding us. The sunrises, sunsets, waterfalls, and sandy beaches we gaze at have such a glow you'll want to capture, so you'll need some captions for summer no filter pics you take.
Nature in the summertime really doesn't need a filter to enhance the colors or increase the brightness. You may even snap a selfie right as the camera captures a magical sun flare. When you stumble upon a no-filter picture without even trying, it feels like you've slayed the Instagram game, so take the moment to brag. There are no special effects added in this pic — and your excellent camera skills are also to thank for that, of course.
When you're about to post, don't forget to add #nofilter to let everyone know what's up. Then, caption away with any of these 28 quotes about the beauty of nature, post it up, and get right back to enjoying the wonderful gift of being outdoors in the summertime.
1. "I find my happiness where the sun shines." — Unknown
2. "Colors are the smiles of nature." — Leigh Hunt
3. "Let nature be your medicine." — Unknown
4. "Because when you stop and look around, this life is pretty amazing." — Dr. Seuss
5. "Keep your eyes on the stars, and your feet on the ground." — Theodore Roosevelt
6. "If you truly love nature, you will find beauty everywhere." — Vincent van Gogh
7. "I radiate beauty, charm, and grace." — Unknown
8. "Inhale. Exhale." — Unknown
9. "There is something infinitely healing in the repeated refrains of nature — the assurance that dawn comes after night, and spring after winter." — Rachel Carson
10. "Of all the paths you take in life, make sure a few of them are dirt." — John Muir
11. "Find the beauty in every day." — Unknown
12. "Collect beautiful moments." — Unknown
13. "Some beautiful paths can't be discovered without getting lost." — Erol Ozan
14. "Choose to shine." — Unknown
15. "Life is not measured by the number of breaths we take, but by the moments that take our breath away." — Unknown
16. "It is almost impossible to watch a sunset and not dream." — Bern William
17. "The sky is an infinite movie to me. I never get tired of looking at what's happening up there." — K. D. Lang
18. "Earth and sky, woods and fields, lakes and rivers, the mountain and the sea, are excellent schoolmasters, and teach some of us more than we can ever learn from books." — John Lubbock
19. "At some point in life, the world's beauty becomes enough." — Toni Morrison
20. "It's the little things in life." — Unknown
21. "We never noticed the beauty, because we were too busy trying to create it." — Unknown
22. "Somewhere on your journey, don't forget to turn around and enjoy the view." — Unknown
23. "Look deep into nature, you will understand everything better." — Albert Einstein
24. "How glorious a greeting the sun gives the mountains." — John Muir
25. "Nature never did betray the heart that loved her." — William Wordsworth
26. "Always take the scenic route." — Unknown
27. "Forever chasing the sun." — Unknown
28. "Summer is a state of mind." — Unknown