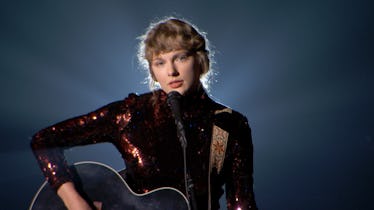 26 Taylor Swift Captions For Instagram Pics With Your "Lover"
ACMA2020/Getty Images Entertainment/Getty Images
Taylor Swift's songs have always kept fans fed with romantic lyrics that stick in your head like glue. She can easily make you feel like she's giving you direct access to her diary — or maybe even like you're reading back over your own. If you're looking for Taylor Swift Instagram captions for couple pictures, you've got plenty of material to work with. Chances are, you've looked to Swift for Instagram inspiration for awhile now.
Maybe you've exhausted Speak Now, Red, and 1989. Who knows? Reputation might be two heartbreaks ago for you. Enter the latest string of Swift records to cure some Instagram writer's block. Lover was a sparkly return to pop. folklore was, well, folksy AF, and evermore felt fully indie-rock.
But one thing about Taylor Swift — no matter what genre she dabbles in — is that she's going to deliver heartfelt bops all the same. This makes her songs consistently spot-on places to turn to for Instagram captions that feel like they were written specifically for you and your bae. She's a master at illustrating the euphoric feeling of falling in love and the triumph of staying in it. Freshen up your feed with the following Swiftie-approved Instagram captions.