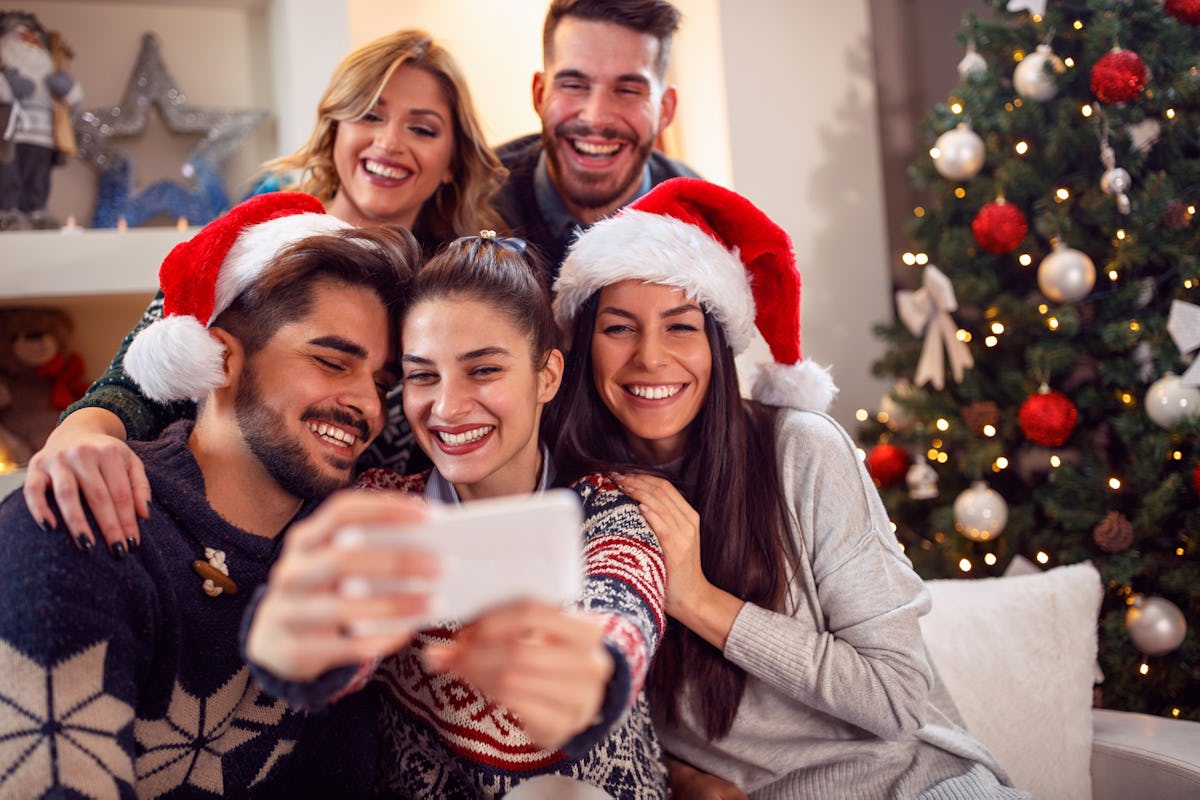 26 Christmas Morning Captions We've Wrapped Up Just For You
Christmas morning never gets less magical. Even as you get older, you never outgrow the need to get up early and start the holiday right — whether that's making breakfast for your entire family, or running straight to the Christmas tree to open up presents. There's no age limit for Christmas morning excitement. It's pretty much the only day of the year that you won't see me hit the snooze button on my alarm. When you've awoken and are camera ready, you need to document the best morning of the entire year with a picture and some Christmas morning captions for the 'Gram.
You could be taking pictures of the beautifully-wrapped boxes under the tree, the Christmas pancakes your mom whipped up, or the entire family dressed in their holiday best together. Whatever the moment may be, you'll want to snap a pic to remember the immense amount of joy in that very moment.
When you post it up on Instagram, you'll need the perfect caption to show off how you feel. We've wrapped up these 26 quotes, just for you. They'll be sitting right here under your Christmas tree for you to open the morning of Dec. 25. They'll be like the nice bow you put on top of your photo, so don't take any time away from your family traditions, and enjoy your holiday. Merry Christmas and a happy holiday to all!
1. "The best of all gifts around any Christmas tree: The presence of a happy family all wrapped up in each other." — Burton Hills
2. "He was Christmas morning, crimson fireworks and birthday wishes." — Raquel Franco
3. "Coffee and Christmas music." — Unknown
4. "One of the most glorious messes in the world is the mess created in the living room on Christmas Day." — Andy Rooney
5. "Good morning, may your cup overflow with peace, love, and pure awesomeness today." — Unknown
6. "I am only a morning person on December 25." — Unknown
7. "I just want to bake stuff and watch Christmas movies all day." — Unknown
8. "Although it's been said, many times, many ways, Merry Christmas to you!" — "The Christmas Song"
9. "I don't think Christmas is necessarily about things. It's about being good to one another." — Carrie Fisher
10. "May your days be merry and bright." — Irving Berlin, "White Christmas"
11. "OK, but first presents." — Unknown
12. "It's a beautiful day to start." — Unknown
13. "Maybe Christmas, he thought, doesn't come from a store. Maybe Christmas, perhaps, means a little bit more." — The Grinch
14. "Don't get your tinsel in a tangle." — Unknown
15. "Sometimes the most real things in the world are the things we can't see." — The Polar Express
16. "The best way to spread Christmas cheer is singing loud for all to hear!" — Buddy the Elf, Elf
17. "Have a holly jolly Christmas." — "A Holly Jolly Christmas"
18. "Let your heart be light." — "Have Yourself A Merry Little Christmas"
19. "Happy Holla Days." — Unknown
20. "It's not what's under the tree that matters, it's who's gathered around it." — Unknown
21. "It's beginning to look a lot like Christmas." — "It's Beginning To Look A Lot Like Christmas"
22. "Christmas magic is silent. You don't hear it, you feel it. You know it. You believe it." — Kevin Alan Milne
23. "Some people are worth melting for." — Olaf, Frozen
24. "Believe in the magic of Christmas." — Unknown
25. "All I want for Christmas is you." — Mariah Carey, "All I Want For Christmas Is You"
26. "At Christmas, all roads lead home." — Marjorie Holmes