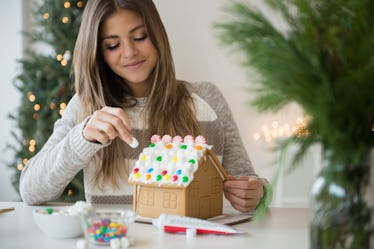 25 Instagram Captions For Your Gingerbread House That Are Sweeter Than Gumdrops
Oh, gingerbread. Whoever decided to make an entire house out of you and coat your landscape with icing and gumdrops was a confectionary genius. Gingerbread houses will always be fun to make no matter how old you get. In fact, looking for Instagram captions for gingerbread house pics is probably the only difference between adult builders and the kiddos.
If Instagram was actually a thing when I made those masterpieces growing up, you better believe I'd have them in the archives. Now, I'm sort of making up for lost time, embracing my more coordinated self and showboating my awesome gingerbread houses on social media. Thanks to the internet, and specifically social media platforms like Pinterest, I can take notes from other diverse ideas. It's always interesting to see how other people are perceiving the concept of a gingerbread house.
Gingerbread houses don't necessarily have a protocol these days. People have knocked down those edible walls and have explored so many design possibilities for gingerbread houses. And no, you may not be able to get to all of them this year, but I'm dedicated to sharing how my sweet arts and crafts project came out, and I'm sure you are, too. Since you already know your delicious house is going to be delectable and 'Gram-worthy, you might as well pair it with a caption that's just as appetizing.
1. "I thought maybe we could make gingerbread houses, and eat cookie dough and go ice skating and maybe even hold hands." — Buddy the Elf, Elf
2. "Love grows in little houses."
3. "Keep calm and build gingerbread houses."
4. "Christmas for me is all about spending time with my family. I cherish any chance we have to spend all day together making gingerbread houses, baking cookies, or sitting around and watching movies." — Blake Lively
5. "We shape our buildings; thereafter they shape us." — Winston Churchill
6. "There are no straight lines or sharp corners in nature. Therefore, buildings must have no straight lines or sharp corners." — Antoni Gaudi
7. "Good buildings come from good people, and all problems are solved by good design." — Stephen Gardiner
8. "Create with the heart; build with the mind." — Criss Jami
9. "If you can show people how to build castles, make sure you do not neglect building and nurturing your own." — Suzy Kassem
10. "I'm not ignoring you. I'm busy building my empire." — Moosa Rahat
11. "Creativity is allowing yourself to make mistakes. Art is knowing which ones to keep." — Scott Adams
12. "The real beauty of the building is seen when the right paints touch its walls." — Ernest Agyemang Yeboah
13. "It is never too late to start crafting for Christmas."
14. "Happiness is handmade."
15. "Christmas makes me happy no matter what time of year it comes around." — Bryan White
16. "It is Christmas in the heart that puts Christmas in the air." — W.T. Ellis
17. "I wish we could put up some of the Christmas spirit in jars and open a jar of it every month." — Harlan Miller
18. "At Christmas, all roads lead home." — Marjorie Holmes
19. "Home is where the heart is."
20. "I live in my own little world. But it's OK, they know me here." — Lauren Myracle
21. "Home isn't a place, its a feeling." — Cecelia Ahern
22. "Creativity is messy and I am very creative."
23. "The desire to create is one of the deepest yearnings of the human soul." — Dieter Uchtdorf
24. "It takes hands to build a house, but only hearts can build a home."
25. "Creating means living." — Dejan Stojanovic
This article was originally published on