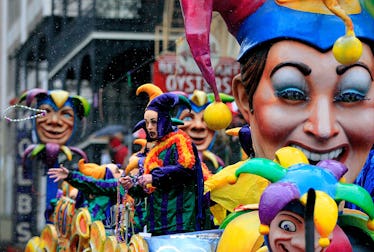 25 Best Instagram Captions For Your Mardi Gras Plans That Bead Being Basic
Sean Gardner/Getty Images News/Getty Images
Parades, vibrant masks, and beads galore are in full swing in New Orleans for Mardi Gras. And if you are making your way to the fun this year, lucky you! Mardi Gras is surely on many of our bucket lists, and you're about to be smack dab in the middle of all of the excitement. There's no doubt you'll be snapping away, because there will really be so much to see and experience. Whether you're covered in beads or making friends with a few jesters, you're gonna need some Instagram captions for Mardi Gras pics that might seemingly speak for themselves.
Mardi Gras dates all the way back to Medieval times, and boy, aren't thousands of people happy that the tradition is still carried out today. Mardi Gras is celebrated on the first day of Lent and on the final day of the Carnival season. In that case, the exact date actually changes each year, but no one's complaining about the highly-anticipated and iconic week spent celebrating in New Orleans.
Even if you're hosting a Mardi Gras-themed party at home, you'll be surprised by how many different poses you can actually do with multiple bead chains. Don't act like you're not going to consider them all. Your time celebrating Mardi Gras is already going to be extra lit, but any of these captions will give your post a little extra shimmer.
1. "Leave a little sparkle wherever you go." — Unknown
2. "Shine bright like a diamond." — Rihanna, Diamonds
3. "Everywhere else it's just Tuesday." — Unknown
4. "Keep calm and party on." — Unknown
5. "Beads and bling. It's a Mardi Gras thing." — Unknown
6. "Welcome to the jungle we got fun and games." — Guns N' Roses, Welcome to the Jungle
7. "All you need is love and some really nice beads." — Unknown
8. "It all starts with one little bead."—Unknown
9. "I feel the need, the need for beads." — Unknown
10. "An American has not seen the United States until he has seen Mardi Gras in New Orleans." — Mark Twain
11. "We don't hide the crazy. We parade it down the street." — Unknown
12. "If I had a power color, it would definitely be sparkle." ― Rachel Hollis
13. "Some girls are just born with glitter in their veins." — Paris Hilton
14. "Leave a little sparkle wherever you go." — Unknown
15. "She who leaves a trail of glitter is surely never forgotten." — Unknown
16. "Life is too short not to celebrate the nice moments." — Jurgen Klopp
17. "Life is short. Buy the bling." — Unknown
18. "You're not fully dressed until you sparkle." — Unknown
19. "Happiness is achieved when you stop waiting for your life to begin and start making the most of the moment you are in." ― Germany Kent
20. "Everyone deserves to shine, smile, and sparkle." — Unknown
21. "The purpose of life is to live it, to taste experience to the utmost, to reach out eagerly and without fear for newer and richer experience." ― Eleanor Roosevelt
22. "Life is either a daring adventure or nothing at all." ― Helen Keller
23. "From bead to shining bead." — Unknown
24. "Don't make me go all voodoo on you." — Unknown
25. "We're so busy watching out for what's just ahead of us that we don't take time to enjoy where we are." ― Bill Watterson
Live it up and show out, because Mardi Gras has no other expectation for you to fulfill. Collect those beads and store those memories, because this is going to be one for the books.