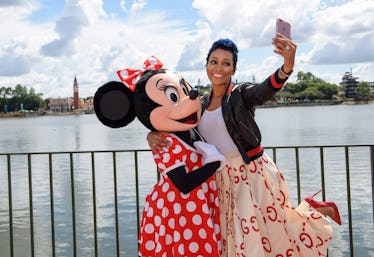 25 Disney Quotes About Adventure That'll Fuel Your Wanderlust On The 'Gram
Handout/Getty Images Entertainment/Getty Images
When it comes to Disney, it's not all just princesses and fairy tales. That's what it might look like from the castle logo we all love, but Disney movies are so much more than happily ever afters. It's all about the adventures our favorite characters go on before the sweet endings that melt our hearts. I would even say Disney movies are the reason I have a sense of adventure and need to travel. For all of my trips, I make sure to keep some Disney quotes about adventure packed away to serve as captions for all of my pictures.
It was Aladdin who showed us "a whole new world" that we wanted to explore, and Hercules convinced us to "go the distance." Plus, I'm sure we were all experiencing the same feels as Belle when she said she wanted "adventure in the great wide somewhere." Disney films and characters subconsciously gave us all the wanderlust when we were growing up, and they still do today.
We wanted to cruise on a magic carpet to all of these places we grew to love. Now, we're exploring the world as adults. Sure, it may be an airplane and not a flying carpet taking us there, but adventure is calling. So, as you're exploring a "part of your world" like Ariel, use any of these 25 Disney quotes to caption your awesome vacay pics for Instagram.
1. "To infinity and beyond." — Toy Story
2. "I want adventure in the great wide somewhere. I want it more than I can tell." — Beauty and the Beast
3. "Adventure is out there." — Up
4. "Like a shooting star, I will go the distance." — Hercules
5. "A whole new world. A dazzling place I never knew, but when I'm way up here, it's crystal clear that now I'm in a whole new world with you." — Aladdin
6. "Second star to the right and straight on 'til morning." — Peter Pan
7. "When's it my turn? Wouldn't I love, love to explore that shore above? Out of the sea, wish I could be, part of that world." — The Little Mermaid
8. "Now, I'm here blinking in the starlight. Now, I'm here suddenly I see. Standing here, it's all so clear. I'm where I'm meant to be." — Tangled
9. "The wilderness must be explored." — Up
10. "There's the whole world at your feet." — Mary Poppins
11. "And out there, living in the sun. Give me one day out there. All I ask is one to hold forever." — The Hunchback of Notre Dame
12. "On this journey that you're making, there'll be answers that you'll seek. And it's you who'll climb the mountain. It's you who'll reach the peak." — Tarzan
13. "Don't know what for what. I dream the day might send just around the river bend for me, coming for me." — Pocahontas
14. "There's no mountain too great." — The Lion King
15. "When there's a smile in your heart, there's no better time to start. Think of all the joy you'll find, when you leave the world behind and bid your cares goodbye. You can fly." — Peter Pan
16. "You will always be my greatest adventure." — Up
17. "Don't just fly, soar." — Dumbo
18. "When I get home I shall write a book about this place... If I ever do get home." — Alice in Wonderland
19. "There ain't nothing gonna stop me now 'cause I'm almost there." — The Princess and the Frog
20. "Our fate lives within us, you only have to be brave enough to see it." — Brave
21. "Always let your conscience be your guide." — Pinocchio
22. "If you walk the footsteps of a stranger, you'll learn things you never knew you never knew." — Pocahontas
23. "Just keep swimming!" — Finding Nemo
24. "Venture outside your comfort zone. The rewards are worth it." — Tangled
25. "Remember me, though, I have to travel far. Remember me each time you hear a sad guitar. Know that I'm with you the only way that I can be. Until you're in my arms again, remember me." — Coco