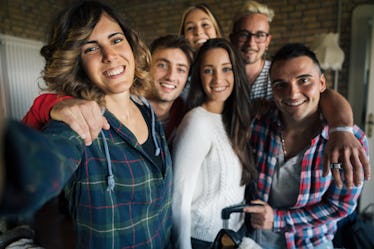 25 Clever Captions For Thanksgiving Eve Pics, Because You're Reunited With Your Besties
Everyone gets excited about Thanksgiving and Black Friday, but the most underrated day in November is when you and your hometown besties are reunited: the night before Thanksgiving. Finally, everyone is in the same place once again, and it instantly feels just like old times. Maybe you and your squad have a hometown hangout spot you plan on meeting up at, or you're hosting Friendsgiving at your place. Either way, you'll need some clever captions for night before Thanksgiving pics, because you know a group picture is on the to-do list.
You may not have seen some of your besties since last year, but when you're all together again, it's like no time has even passed. You quickly get back into your inside jokes, and laughing about those hilarious throwback pics from high school. There's a reason why these are your besties for life, and distance will never take that away.
After catching up on everyone's lives, it's time to snap a group pic. Of course, you'll use #squadgoals when you post to the 'Gram, but your friends deserve so much more than just a hashtag. So, I'm here to help you out with these 25 clever captions to use. Now, get back to having fun with your number ones, because you're reunited and it really does feel so good.
1. "It is one of the blessings of old friends that you can afford to be stupid with them." — Ralph Waldo Emerson
2. "Reunited, and it feels so good." — Peaches & Herb, "Reunited"
3. "Good friends are like stars. You can't always see them, but you know they're always there." — Christy Evans
4. "You're my main squeeze, and bring zest to my life."
5. "You don't have to have anything in common with people you've known since you were five. With old friends, you've got your whole life in common." — Lyle Lovett
6. "Back together with my butter half."
7. "Old friends are best." — John Selden
8. "We've been friends for so long, I can't remember which one of us is the bad influence."
9. "My best friends are like fairy tales. They've been there since once upon a time, and will be there until forever after."
10. "A good friend knows all your best stories. A best friend has lived them with you."
11. "Because in the end, you always go back to the people that were there in the beginning." — Dawson's Creek
12. "Finding an old friend is like finding a lost treasure." — Anthony D. Williams
13. "Let me tell you about my besties."
14. "Some friendships are timeless."
15. "Squad's here."
16. "I get pie with a little help from my friends."
17. "I know it's cheesy, but my friends are really grate."
18. "Shoutout to the friends who became family."
19. "Don't know what I'd do without this crew."
20. "It's amazing how one day someone walks into your life, and you can't remember how you ever lived without them."
21. "My frond to the ond." — Broad City
22. "Cheers from the best."
23. "Good friends are hard to find and impossible to forget." — John Green
24. "A friend is someone who knows all about you and still loves you." — Elbert Hubbard
25. "Many people will walk in and out of your life, but only true friends will leave footprints in your heart." — Eleanor Roosevelt