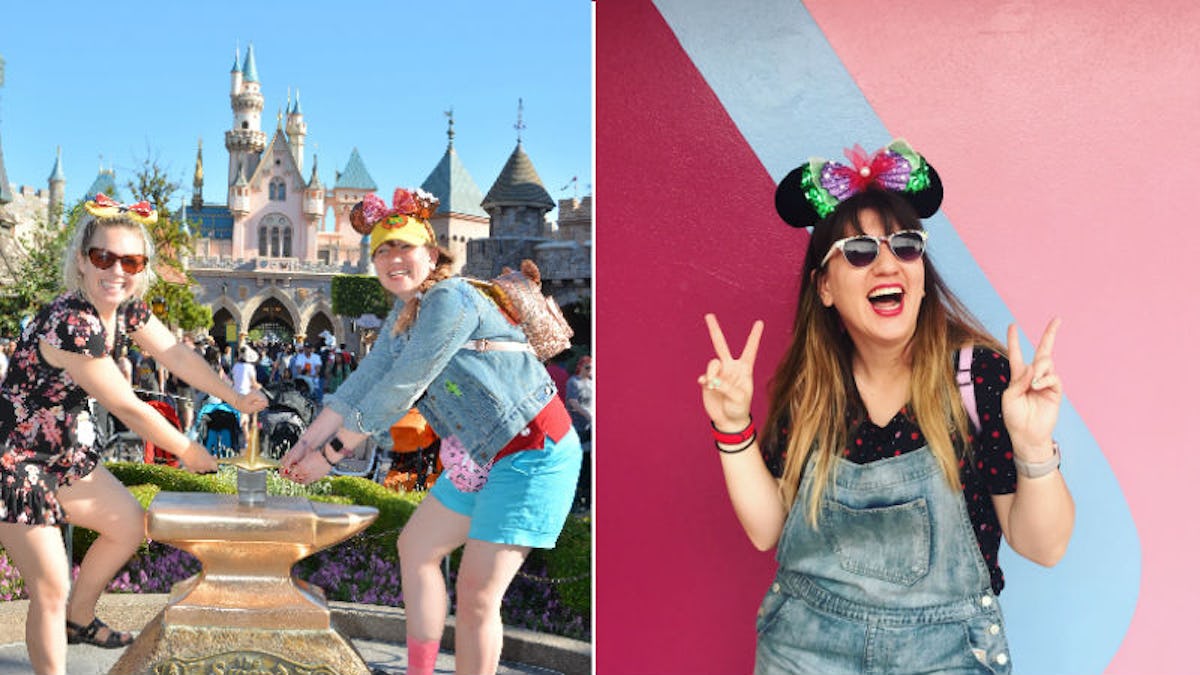 25 Clever Captions For Disney To Pack With Your Minnie Ears For Your Next Vacay
If you instantly get excited at the sight of Minnie Mouse ears and castles, you probably consider yourself a Disney fanatic. If you could, you'd make every family vacation a Disney one, and you're likely dreaming of Mickey-shaped ice cream and churros as we speak. (Heck, you'd live the glam life in Cinderella's castle if that were an option). I know all of this, because I am a Disney person as well. That's why you need some clever captions for Disney Instagram pics. I'm talking some witty one-liners for every Mickey ear selfie and dole whip foodie snap. They all need that extra sprinkle of pixie dust, am I right?
You've used the whole, "If you can dream it, you can do it," Walt Disney quote a million times before, and your latest travel pic was followed by, "Adventure is out there," from Up. Now, it's time for something new. For your next Disney vacay, along with your sparkly Minnie ears and Loungefly Disney backpack, you also need to pack these 25 clever captions. When you've got the mountains waiting — Space, Splash, and Big Thunder — you don't have time to waste posting to 'Gram. Make it quick like a FastPass, and plug in one of these quotes.
1. "Hello, is it Smee you're looking for?" — Unknown
2. "Everything tastes better when it's Mickey-shaped." — Unknown
3. "Lady and the Tramp could be us, but I don't like sharing my food." — Unknown
4. "Cinderella is proof that a new pair of shoes can change your life." — Unknown
5. "When your phone has no signal and you go all Lion King on it." — Unknown
6. "I wanna be where the Disney people are." — Unknown
7. "Some girls were just born with Disney in their veins." — Unknown
8. "I let it go, because hakuna matata and the bear necessities will always be my guide to infinity and beyond." — Unknown
9. "I don't like Disney... I love Disney." — Unknown
10. "That's the real trouble with the world, too many people grow up." — Walt Disney
11. "I'm just trying to hold it together until I can get back to Disney." — Unknown
12. "Don't just fly, soar." — Dumbo
13. "I didn't choose the ear life. The ear life chose me." — Unknown
14. "I never look back, darling. It distracts from the now." — Edna Mode
15. "Yo-ho! Yo-ho! A Disney life for me." — Unknown
16. "Roses are red. I like to eat fruit. Honey, where's my super suit?" — Unknown
17. "I'm 99.9 percent sure I'm a Disney princess." — Unknown
18. "I throw pixie dust around like confetti." — Unknown
19. "Smiling from Mickey ear to ear." — Unknown
20. "If I go there's just no telling how far I'll go." — Moana
21. "There are other things in life besides Disney World, but I ignore them." — Uknown
22. "I'm either at Disneyland, or I'm missing Disneyland." — Unknown
23. "Don't underestimate the importance of body language." — The Little Mermaid
24. "Sometimes, our strengths lie beneath the surface." — Moana
25. "A very merry unbirthday to me." — Unknown