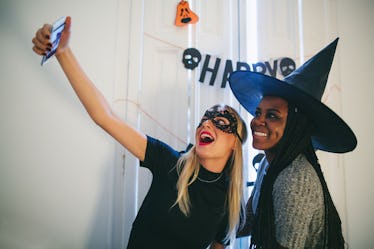 24 Captions For Lazy Halloween Costumes When You Just Don't Feel Like Trying
When you were little, picking out the perfect Halloween costume meant everything. You likely kept going back and forth on who you wanted to be all year long, and when Halloween time came, you couldn't wait to show off how awesome you looked. Nowadays, you may be just too lazy to deliberate. When Halloween rolls up, you wander to your closet and put together the best costume you can come up with based on what you have. No shame, we've all been there with the last-minute closet finds. Though, when you don't even feel like trying, you still need some Instagram captions for lazy Halloween costumes.
Being lazy with your costume doesn't mean you're not going to need some creativity for the 'Gram. The perfect words let your friends know that even though you're just wearing a leather jacket with leggings, you're still ready to creep it real. Sure, your makeshift witch outfit consists of every black piece of clothing you could find, paired with a dark lipstick, but you're wearing something. So, consider any of these 24 Halloween costume captions to let everyone know you may be lazy, but that won't stop you from trick or treating yourself to some Halloween fun.
1. "I'm scary enough without a costume."
2. "I'm a mouse, duh." — Mean Girls
3. "Costume? Ain't nobody got time for that."
4. "This is my zombie costume. I just haven't been bitten yet."
5. "I'm just here for the candy."
6. "This is my Halloween costume... yes, I am lazy."
7. "I'll admit, I'm just here for the boos."
8. "My Halloween costume ghosted me."
9. "I'm doing this new thing called whatever the hell I want."
10. "I'm not lazy. I'm just on energy saving mode to trick or treat myself later."
11. "Happy Halloween, I made it out of bed."
12. "Buy a costume? Witch, please."
13. "This is my Halloween costume. I worked really hard on it, OK?"
14. "Just because I cannot see it, doesn't mean I can't believe it." — The Nightmare Before Christmas
15. "For some of us, Halloween is everyday." — Tim Burton
16. "If the shoe fits... make sure you get a broom and hat to match."
17. "My costume's straight outta coffin."
18. "Costume or not — ghouls just wanna have fun."
19. "I bought myself Halloween candy instead of a costume this year."
20. "This is my adult costume. Convincing, isn't it?"
21. "My costume this year is called 'whatever I could find in my closet.'"
22. "No matter what I wear, I'm creepin' it real this Halloween."
23. "I put a spell on you, and now, you see my Halloween costume."
24. "I'm wearing a Halloween costume. It's just magic, and muggles can't see it."
This article was originally published on