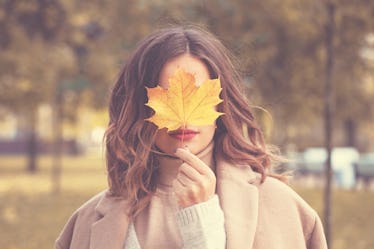 24 Creative Fall Captions For Your Witty Or Somewhat Salty Seasonal Pics
I don't care what anyone says, fall is undoubtedly the most exquisite season Mother Nature has #blessed us earthlings with. Its beauty is truly an otherworldly gift, and we are beyond lucky to live in it. Sure, I'm the first to admit that I'm the most passionate beach baby out there throughout the summer months with my booty parked in the sand and a frozen margarita in hand. But there's something so magical about the vibrant, colorful leaf hues and the crisp air once autumn makes its way into our hearts. Every single pumpkin spice-flavored treat? We're here for it. Oversized sweaters and beanie caps? Bring them on. If you're all about the fall life, you'll most likely need some prime inspo for creative fall Instagram captions, because pics or it didn't even happen, right?
Author L.M. Montgomery said it best in Anne of Green Gables: "I'm so glad I live in a world where there are Octobers." So, live in the now and embrace everything this amazing time of year has to offer, because it won't last forever. Here are 24 creative caption ideas for when you're in need of the perfect words to encapsulate how much you love fall:
For Your Witty, Sassy, Or Somewhat Salty Seasonal Snaps
1. "This witch can be bribed with chocolate."
2. "An apple a day keeps anyone away if you throw it hard enough."
3. "I fall somewhere on the spectrum between Proverbs 31 and Tupac."
4. "The only thing getting 'lit' this weekend are my fall scented candles."
5. "I never met a pumpkin I didn't like."
6."There are two times of the year: autumn and waiting for autumn."
7. "Fall so hard, motherpumpkins wanna spice me."
8. "I hope I can be the autumn leaf, who looked at the sky and lived." — Dodinsky
9. "If you say 'totes adorbs' three times while clicking your heels while wearing Uggs, you'll end up in a Starbucks drinking a Pumpkin Spice Latte."
10. "When someone says it's too soon for pumpkin spice, and you realize you don't need that kind of negativity in your life."
11. "I spilled my Pumpkin Spice Latte, and now a bunch of ants are making brunch plans and doing yoga."
12. "Come here you big, beautiful cup of coffee and lie to me about how much we're going to get done today."
For Your Beautifully Scenic, Artsy Shots Of Nature
12. "Life starts all over again when it gets crisp in the fall." — F. Scott Fitzgerald
13. "Autumn is a second spring when every leaf is a flower." — Albert Camus
14. "Autumn carries more gold in its pocket than all the other seasons." — Jim Bishop
15. "It looked like the world was covered in a cobbler crust of brown sugar and cinnamon." — Sarah Addison Allen
16. "Anyone who thinks fallen leaves are dead has never watched them dancing on a windy day." — Shira Tamir
17. "I am rich today with autumn's gold." — Gladys Harp
18. "Life fails to be perfect, but never fails to be beautiful.
19. "My favorite color is October."
20. "If a year was tucked inside of a clock, then autumn would be the magic hour." — Victoria Erickson
For Your Couples Pic With Your Boo Thang (That's Most Likely Extra AF)
21. "So there I was, falling in love with you."
22. "She denies it. But the truth is, she's falling in love with him."
23. "You fall in love with the most unexpected person at the most unexpected time."
24. "But these are days we dream about when the sunlight paints us gold." — Bright Eyes