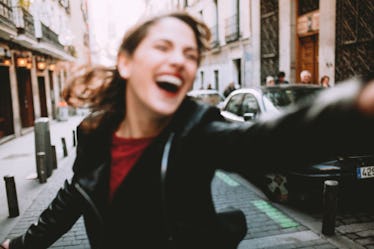 24 Clever Study Abroad Captions For The Adventure Of A Lifetime
Study abroad will undoubtedly be the best experience of your life. You'll make lifelong friends, hop on planes, and wander to the most beautiful hidden gems. In my opinion, it's a quintessential experience that every college student should have. I had the opportunity to study abroad, and it's something I would definitely recommend if you want to expand your horizons, whiling discovering more about yourself and the world. Check out these clever study abroad captions (for the millions of pics you'll take) that capture what it means to be a student in another land.
Have you ever dreamed of living in a different country? What about meeting the locals, eating the most unique foods, and getting to call another place "home?" Well, that's what study abroad is all about. You'll be able to immerse yourself in new cultures and completely fulfill your wanderlust. You'll get the chance to combine the best of both worlds: travel and college. You could be making memories of a lifetime while you study a new language, take cooking and art history classes, and explore the sites on weekends. Grab your camera and a notebook as soon as possible to jot these down, because every student can relate to these study abroad captions.
1. "Totally FALLing for you." — Unknown
2. "Oh, the places you'll go." – Dr. Seuss
3. "Seas the day." — Unknown
4. "Coming back to where you started is not the same as never leaving." - Terry Pratchett
5. "One's destination is never a place, but a new way of seeing things." – Henry Miller
6. "Nobody can discover the world for somebody else. Only when we discover it for ourselves does it become common ground and a common bond and we cease to be alone." – Wendell Berry
7. "The world is a book, and those who do not travel read only a page." – Saint Augustine
8. "And then I realized adventure was the best way to learn." - Unknown
9. "More gelato, please." — Unknown
10. "Of all the books in the world, the best stories are found between the pages of a passport." — Unknown
11. "Blessed are the curious for they shall have adventures." – Lovelle Drachman
12. "Travel makes one modest. You see what a tiny place you occupy in the world." – Gustave Flaubert
13. "Life is short, and the world is wide." — Unknown
14. "And so the adventure begins." — Unknown
15. "Life begins at the end of your comfort zone." — Unknown
16. "Wherever you go, go with all your heart." — Confucius
17. "Collect moments, not things." — Oscar Wilde
18. "Not all those who wander are lost." — Unknown
19. "Let's live." — Unknown
20. "The journey of a thousand miles begins with with a single step." — Chinese Proverb
21. "I've got a bad case of wanderlust." — Unknown
22. "Wander where the Wi-Fi is weak." - Unknown
23. "If you need me, I'll be parked right here." — Unknown
24. "Let's get lost." — Unknown