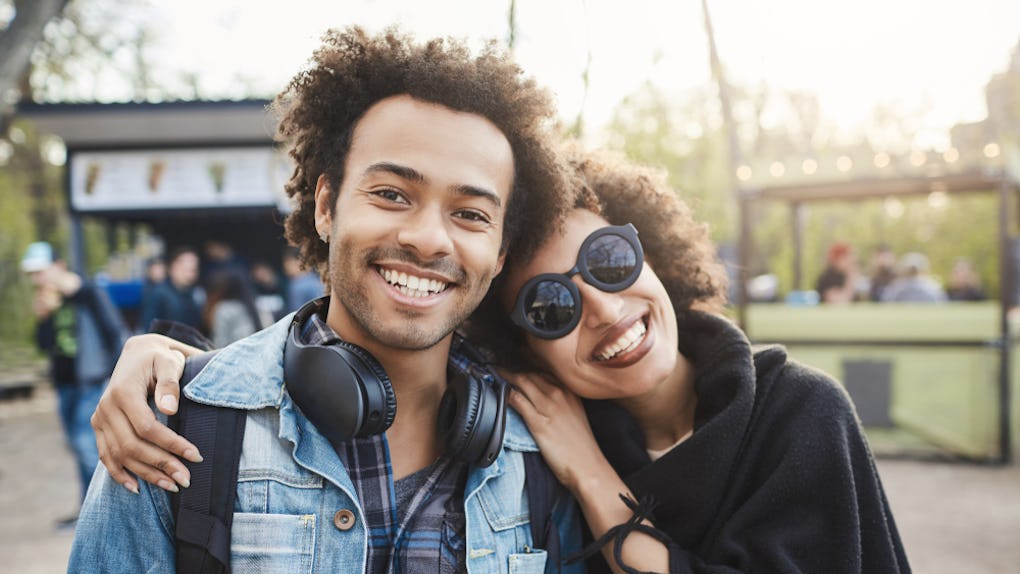 Cookie Studio/Shutterstock
24 Captions For Your Brother's Birthday, Because There's No Buddy Like Him
So, it's your brother's birthday, and you want to share the love. Not only are you siblings, but you're best friends, so how exactly do you tell the world how much you care for your bro? You start by posting a great pic of you two on Instagram, but a picture can only say so much. That's why you need Instagram captions for your brother's birthday that are both sweet and funny.
You may have pulled pranks on one another as kids, but now you get to shower him with love for his big day. You may be struggling choosing a good photo of the two of you. You could go with a cute throwback pic of you both as kids, or a cute one of you as infants. Another great option is a recent pic of you two looking fab and fully taking on adulthood. The best part about Instagram now is that you don't have to choose one — you can pick a few of the best ones on your phone.
Now that the hard part of choosing the right photo is out of the way, make life easier by using any of these 24 captions to go along with your pics. Your brother will totally love the spotlight you shine on him, even if he's bad at saying, "thanks." There really is no other brother like yours, and you can't wait for his happiest of birthdays.
1. "Because I have a brother, I'll always have a friend." — Unknown
2. "We didn't realize we were making memories, we just knew we were having fun." — Winnie the Pooh
3. "I smile because you're my brother. I laugh because there's nothing you can do about it." — Unknown
4. "The greatest gift our parents ever gave us was each other." — Unknown
5. "There's no buddy like a brother." — Unknown
6. "I can't promise to solve all your problems, but I can promise you won't have to face them alone." — Unknown
7. "It's a sister's job to annoy her brother, no matter how old they are." — Unknown
8. "Brothers make the best friends." — April Dillow
9. "If there ever comes a day when we can't be together, keep me in your heart. I'll stay there forever." — Winnie the Pooh
10. "You've got a friend in me." — Toy Story
11. "Happy birthday to a brother who has the world's greatest sister. Dang, you're so lucky." — Unknown
12. "Happy birthday to my favorite brother. Okay, so you're my only brother, but if I had others, you'd still be my favorite." — Unknown
13. "Happy birthday to mom and dad's second favorite kid." — Unknown
14. "Being related to me is really the only gift you need. Just sayin'." — Unknown
15. "No matter how old you get, I don't think you'll ever grow up. Happy birthday, bro." — Unknown
16. "In a world full of brothers, I'm so glad I got you." — Unknown
17. "Happy birthday to an awesome brother from your even more awesome sister." — Unknown
18. "Best friends are we, my brother and me." — Unknown
19. "How do people make it through life without a brother?" — Unknown
20. "Sometimes being a brother is even better than being a superhero." — Marc Brown
21. "Some people don't believe in heroes, but they haven't met my brother." — Unknown
22. "Just in case you ever foolishly forget; I am never not thinking of you." — Virginia Woolf
23. "Bro, no matter what life throws at us, I've always got your back. Happy birthday." — Unknown
24. "You have been everything I could ask for, and nothing I wouldn't want in a brother. Happy birthday, bro." — Unknown