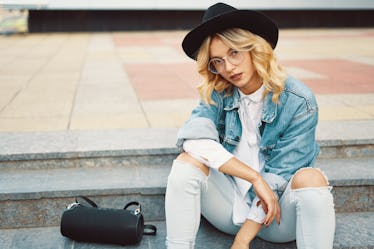 24 Captions For Pics Of Your Ripped Jeans, Because You'll Always Be A "Blue Jean Baby"
I guess it's time for me to break out my distressed denim again, because ripped jeans are making a huge comeback. I totally understand why. It's so much fun taking a basic T-shirt and jeans look, and transforming it into something straight off the runway with the right footwear and accessories. With an outfit that clutch, you know exactly what you need to do before walking out the door: snap a selfie, of course. So, when you're ready to post to the 'Gram, you'll need some captions for ripped jeans.
Honestly, jeans are such a staple in my wardrobe, I don't know what I would do without them. I can dress them up with booties, lots of jewels, and a floppy hat, or rock them with sneakers, a tank, and baseball cap. Since I wear my jeans so often, these 24 captions come in handy with almost every single selfie I want to post. When I'm blanking on a good quote, I can just turn to my jeans for some inspo.
Just like an awesome pair of ripped jeans, I'm here to help you look fab as well. Don't delay in posting to the 'Gram for a second. Start seeing the likes roll in right away with a #fire caption that you'll find to be totally jean-ius
1. "Fashion is mysterious, as a rule. Why are blue jeans a classic? You just hit on something that happens to be timeless and right." — Diane von Furstenberg
2. "Blue jean baby, LA lady." — Elton John, "Tiny Dancer"
3. "In Texas, we practically come out of the womb in jeans." — Kelly Clarkson
4. "Denim kind of a day."
5. "You can never own too much denim."
6. "Denim is a love that never fades." — Elio Fiorucci
7. "I got these good jeans from my family."
8. "This outfit is jeanius, am I right?"
9. "When in doubt, wear denim."
10. "White shirt. Ripped jeans. Black heels."
11. "I have too many jeans, said no girl ever."
12. "All you need is love, but a great pair of jeans never hurts."
13. "Blue jeans, white shirt. Walked into the room, you know you make my eyes burn." — Lana Del Rey, "Blue Jeans"
14. "In a world full of trends, I want to remain a classic." — Iman
15. "Feelin' blue."
16. "Jeans are always a good idea."
17. "Never not wearing denim"
18. "It's a blue jean kinda dream."
19. "You should really spend more money on the things you wear every day, like jeans." — Alexa Chung
20. "Let's talk about my ripped jeans for a sec, though."
21. "Rainy days call for ripped jeans."
22. "In the right denim, a girl can conquer the world."
23. "Personally, I don't really have a set style or look. It's pretty much what I feel like wearing that day, from a floral-print dress and high heels to ripped jeans and army boots." — Shay Mitchell
24. "I'm pleating with you. Please like my jeans."