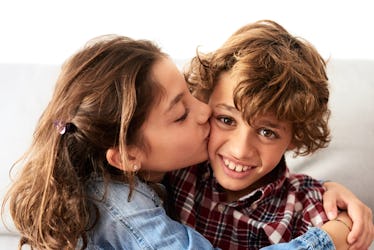 23 People Reveal Their First Childhood Crushes & The Adorbs Things They Did
No matter how old you get, you never forget your first childhood crush. Mine was a boy named Lenny. I spotted him on the first day of first grade and immediately started crushing on him. He had a light blonde bowl cut that danced around his face when he ran and his eyes were red and puffy from crying when his mom left. It was love. I remember thinking, "I am gonna get him alone and kiss him." (TBH my romantic tactics haven't changed much over the years). I was on a mission — a failed mission because, of course, he liked my friend Ciara. Typical. I've probably forgotten half of the folks I've actually dated since then, but I'll never forget Lenny.
As it turns out, I'm not the only one who still remembers my first brush with hormones. In a recent Reddit thread, people were asked "Who was your first crush and what did you do?" and their answers were both sweet and hilarious. There were stolen kisses, broken hearts, life-long love affairs, and, um, a lot of throwing up. (Well, at least my first crush wasn't the most awkward story, right?) But mostly, these stories just melt your heart with their epic adorableness.