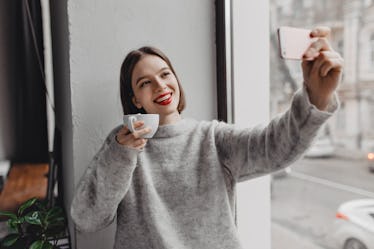 23 Insta Captions For September Selfies In Your Oversized Sweaters
Shutterstock
Real talk: Who's been putting life on fast-forward lately? I guess time really does fly when you're having fun in the sun, because fall is almost here and you officially are in need of Instagram captions for September selfies. There's so much to look forward to this month, including the fun Labor Day plans you have with your family, partner, or housemates. So many Insta-worthy moments are bound to happen, so it helps to know exactly what you want to pair with your snaps.
Saying goodbye to summer is never easy, but it helps when you have exciting things to look forward to like perfecting your Pumpkin Spice Latte recipe or tie-dyeing sweatshirt-and-sweatpant sets to wear on chilly days. At home, you and your housemates can have cozy movie nights, take Boomerangs with the leaves in the backyard, and make turnovers with the fresh apples you picked up from a farm stand.
With a three-day weekend ahead and the upcoming season to enjoy, you've got tons of memories to make, so these 23 September captions will come in handy when you're ready to post your favorite snaps. They work for simple cozy selfies of you enjoying your coffee with a good book, and even the vibrant plandids of you dancing around in the fallen leaves with your pup. Whatever sweet moments your camera captures are fair game.
1. "Hello September, I wasn't expecting you so soon."
2. "Here's to the next chapter."
3. "And all at once, summer collapsed into fall." — Oscar Wilde
4. "My goal is to make it a September to remember."
5. "August slipped away into a moment in time." — Taylor Swift, "August"
6. "Never stop be-leaf-ing in the power of September."
7. "Maybe she's born with it. Maybe it's maple leaves."
8. "New season, who 'dis?"
9. "September is full of new adventures and new memories waiting to be made."
10. "And I didn't mean to fall in love, but I did. And you didn't mean to love me back, but I know you did." — Plain White T's, "A Lonely September"
11. "And suddenly, you just know it's time to start something new and trust the magic of beginnings." — Meister Eckhart
12. "September sweaters havin' me feeling gourdgeous."
13. "Hate to be corny, but I really love September."
14. "Say do you remember dancing in September, never was a cloudy day." — Earth, Wind & Fire, "September"
15. "Never want to leaf this place."
16. "I've decided to spice things up this September."
17. "I don't know where i'm going from here, but I promise it won't be boring." — David Bowie
18. "I don't know why all the trees change in the fall, but I know you're not scared of anything at all." — Taylor Swift, "The Best Day"
19. "It's official: I've fallen for you, September."
20. "I like weather that gives me a good excuse to cuddle closer to you."
21. "Playing hide-and-seek and giving me your weekends." — Taylor Swift, "Cardigan"
22. "Cotton candy skies and string lights."
23. "All wrapped up."
This article was originally published on