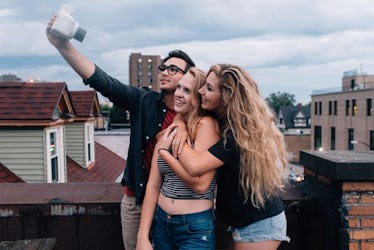 22 Tweets About Third Wheeling That Are So Real, It Hurts
Before my current relationship, I was single for a long time, which means I've put in some pretty serious time as a third wheel. You know, the third person who hangs (sometimes awkwardly) out with a couple on the reg. Sometimes it feels totally natural to hang out as a trio. But other times, and especially when they're a new couple who can't keep their hands off one another, the third wheeling struggle is real. If there's one thing to ease the pain of being a serial party of three — if these tweets about third wheeling are any indication — at least you aren't alone in, well, being alone with a party of two. After all, sometimes just knowing other people are going through the same thing as you can take some of the sting out of it.
Or maybe you're currently coupled up with a third party who hangs out with you so much you're practically a triad, and you want to know what's really on your friend's mind. Well, if Twitter is good for anything, it's keeping it real about what we're feeling. Here's how fellow third-wheelers on Twitter feel about their experiences being a couple's forever plus-one. It's so true, it almost hurts.