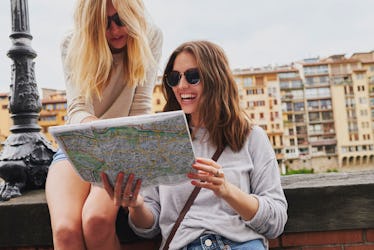 22 Travel Quotes For Friends Who Are Down For The Adventure
Many of us have that deep desire to travel. Once the travel bug gets to you, your wanderlust begins drafting a huge bucket list of new places to explore. The destination for this summer may be set in stone, but the travel companion is still to be determined. Of course, you could always go with your family, or even on a romantic getaway with bae, but some of the best people to travel with are your best friends. They make every adventure so much better, so for all of your upcoming trips, it's safe to say you'll need travel quotes for friends to document everything.
These wanderlust-filled sayings will be the perfect captions for all of your bestie selfies in front of gorgeous landscapes and popular monuments. There really is no one else you'd want by your side when you're sailing along the Mediterranean, laying out in a hammock in the Maldives, or hiking through Cinque Terre. You'll be #squadgoals in every pic, and eager to post to the 'Gram right away. That's why you need to pack these 22 travel quotes for friends along with your matching monokinis. When the time comes, you'll have captions ready and waiting. Snap a pic, post, and get right back to some serious BFF memories you'll always remember.
1. "Life was meant for good friends, and great adventures." — Unknown
2. "We are all travelers in the wilderness of this world, and the best we can find in our travels is an honest friend." — Robert Louis Stevenson
3. "In the end, what you do isn't going to be nearly as interesting or important as who you do it with." — John Green
4. "Never go on trips with anyone you do not love." — Ernest Hemingway
5. "Let's travel together, and get lost in beautiful places." — Unknown
6. "Will you come travel with me? Shall we stick by each other as long as we live?" — Walt Whitman
7. "The most beautiful things in life are not things. They're people and places, memories and pictures. They're feelings and moments, and smiles and laughter." — Unknown
8. "Good company in a journey makes the way seem shorter." — Izaak Walton
9. "As with any journey, who you travel with can be more important than your destination." — Gossip Girl
10. "A journey is best measured in friends, rather than miles." — Tim Cahill
11. "Friends are as companions on a journey, who ought to aid each other to persevere in the road to a happier life." — Pythagoras
12. "It doesn't matter where you're going, it's who you have beside you." — Unknown
13. "The best things in life are the people we love, the places we've been, and the memories we've made along the way." — Unknown
14. "We didn't realize we were making memories, we just knew we were having fun." — Winnie The Pooh
15. "Everyone needs a friend who will call, and say, 'Get dressed, we're going on an adventure.'" — Unknown
16. "If you want to go quickly, go alone. If you want to go far, go together." — African Proverb
17. "A good friend listens to your adventures. A best friend makes them with you." — Unknown
18. "Friends who travel together, stay together." — Unknown
19. "As soon as I saw you I knew a grand adventure was about to happen." — Winnie The Pooh
20. "Not all those who wander are lost." — J.R.R. Tolkien
21. "We travel not to escape life, but for life not to escape us." — Unknown
22. "I wanna travel the world with you, go to every country, every city, take pictures, and be happy." — Unknown