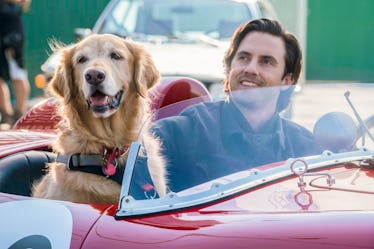 22 Movies About Dogs Like 'The Art Of Racing In The Rain' That'll Make You Sob
20th Century Fox
A dog is often a person's best friend, but if there's anything movies about dogs have taught audiences, it's that these bonds are all fun and games until something heartbreaking (almost always) inevitably happens to the dog. Having a pet can teach people of all ages about life's progression, and while staring at human actors like Milo Ventimiglia for two hours is also a good selling point, movies about dogs like The Art of Racing in the Rain have much more to teach you about your canine bestie.
Based on a bestselling novel, The Art of Racing in the Rain stars Ventimiglia as the owner of Enzo, a Golden Retriever whose thoughts are voiced by Kevin Costner. After adopting him as a puppy, Ventmiglia's race car-driving character Denny takes Enzo completely under his wing. When Denny meets and falls in love with Eve (Amanda Seyfried), Enzo struggles to connect with her, but a sad turn of events requires him to support Denny more than ever before.
Whether a dog is teaching his owners a lesson about life or creating havoc in their home, Hollywood loves tackling all the ups and downs of these relationships. If you've already cried your way through The Art of Racing in the Rain, check out the picks below for your next doggy drama or canine comedy.