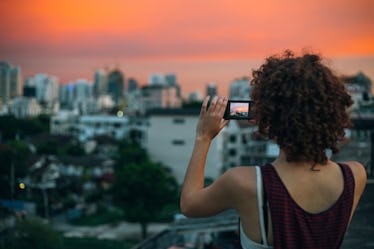 22 Dreamy Captions For Sunset Pictures That Will Take Your Breath Away
We've all been there. You walk outside and are immediately swept off your feet at the sight before you. Entranced by the beautiful color show spreading across the horizon, you are met with an exquisite sunset. It is truly one of Mother Nature's most Instagrammable moments. I mean, she has a lot to show off — but the sight of orange, pink, yellow, and purple filling up the sky is when she really outdoes herself. An awesome picture of the setting sun is loved so much that everyone and their mother will be taking a pic and posting it to the 'Gram. Set your snapshot apart from the rest with Instagram captions for sunset pictures.
Every picture will be of the gorgeous sight, but you will have an excellent caption to complement yours just perfectly. This also helps to be one of the first peeps to post that beautiful pic, so don't hesitate for one second before clicking the share button. Speed along that 'Gram with any of these 22 sunset quotes as your caption of choice.
All of the work is already done for you, so take your eyes off your phone and back to eyeing that pristine sunset right there in front of you. It won't last long, so you better look up before the sun is below the horizon.
1. "It was sunsets that taught me that beauty sometimes only lasts for a couple of moments, and it was sunrises that showed me that all it takes is patience to experience it all over again." — A.J. Lawless
2. "It is almost impossible to watch a sunset and not dream." — Bern Williams
3. "The sky has changed from orange to a hundred shades of pink to a dark navy blue, and here I am still loving you." — A.Y.
4. "I like people who get excited about the change of seasons, the sound of the ocean, watching a sunset, the smell of rain, and starry nights." — Brooke Hampton
5. "Appreciate small moments of happiness, for they are so important."
6. "Sunsets are proof that endings can often be beautiful too." — Beau Taplin
7. "That was her magic — she could still see the sunset, even on those darkest days." — Atticus
8. "Because when you stop and look around, this life is pretty amazing." — Dr. Seuss
9. "Meet me where the sky touches the sea." — Jennifer Donnelly
10. "All my life, I have been in love with the sky. Even when everything was falling apart around me, the sky was always there for me." — Yoko Ono
11. "I never met a sunset I didn't like."
12. "Nothing can dim the light which shines from within." — Maya Angelou
13. "Her heart was made of liquid sunsets." — Virginia Woolf
14. "The only kind of sunsets that I don't like are the ones that I missed."
15. "Chase the sunset."
16. "Don't forget, beautiful sunsets need cloudy skies." — Paulo Coelho
17. "Every sunset brings the promise of a new dawn." — Ralph Waldo Emerson
18. "When someone asks me what my favorite colors is, I should just say, 'sunset.'"
19. "She was in love with the sunset. No one else ever even stood a chance."
20. "All I ever wanted was to dream another sunset with you." — Mayday Parade, "Jamie All Over"
21. "Every one of a hundred thousand cities around the world had its own special sunset and it was worth going there, just once, if only to see the sun go down." — Ryu Murakami
22. "There's too many things I haven't done yet. There's too many sunsets I haven't seen." — Sara Bareilles, "Many The Miles"
This post was originally published on Feb. 3, 2018. It was updated on Aug. 12, 2019.