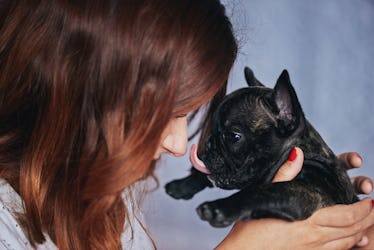 22 Instagram Captions For National Puppy Day, So Get Ready For Cuteness Overload
Of all of the amazing holidays that have surfaced over the years, I am so here for the ones dedicated to fur babies. National Puppy Day takes place on March 23, and it's a prime time to post the most adorable pics of your pup and destroy everyone on the Internet with cuteness overload. As much as a furry face and wet kisses speak for themselves, you'll need Instagram captions for National Puppy Day that are too sweet for words.
In my opinion, puppies are the cutest animals on the planet. They plop around without a care in the world, and every little thing they do instantly turns us into a mushy mess. National Puppy Day is a day where fur babies throughout the world should be celebrated and shown so much love (which should also happen every single day, of course). If you don't have the pleasure of calling one your own, this day may help you fill that fur-less void by welcoming a furry friend into your home. You can even round up your friends and volunteer at an animal shelter to make more than one fur baby's entire day.
Puppies are going to be all over the Internet on National Puppy Day, thank goodness. You may even be posting pics of your fur baby or the sweet pups you spent the day with at the shelter. Let's be real — even grown-up dogs will always be puppies in our eyes, no matter how big they get. So, don't forget to think of some pawfect captions for National Puppy Day that truly hit home.
1. "Happiness is a warm puppy." ― Charles M. Schulz
2. "I'm convinced that petting a puppy is good luck." ― Meg Donohue
3. "Put a puppy in your picture, and it will make it 20 times better." — Lucky Blue Smith
4. "No matter how you're feeling, a little dog gunna love you." — Waka Flocka Flame
5. "The biggest dog has been a pup." — Joaquin Miller
6. "Money can buy you a fine dog, but only love can make him wag his tail." — Kinky Friedman
7. "When you feel lousy, puppy therapy is indicated." — Sara Paretsky
8. "Fall in love with a dog, and in many ways you enter a new orbit, a universe that features not just new colors but new rituals, new rules, a new way of experiencing attachment." — Caroline Knapp
9. "The only creatures that are evolved enough to convey pure love are dogs and infants." — Johnny Depp
10. "My dog is my heart." — Unknown
11. "Once you have had a wonderful dog, a life without one, is a life diminished." — Dean Koontz
12. "Every dog must have his day." — Jonathan Swift
13. "Being this cute must be so freaking ruff." — Unknown
14. "Dogs are not our whole life, but they make our lives whole." — Roger Caras
15. "A dog is the only thing on earth that loves you more than he loves himself." — Josh Billings
16. "Until one has loved an animal, a part of one's soul remains unawakened." ― Anatole France
17. "Our perfect companions never have fewer than four feet." ― M. H. Clark
18. "A dog has one aim in life... to bestow his heart." ― J.R. Ackerley
19. "If you live with dogs, you'll never run out of things to write about." ― Sharon Delarose
20. "Animals in our lives can be a blessing." — J. Wesley Porter
21. "A dog will teach you unconditional love. If you can have that in your life, things won't be too bad." — Robert Wagner
22. "The dog is the perfect portrait subject. He doesn't pose. He isn't aware of the camera." — Patrick Demarchelier
Your pup deserves your love every single day, but for a national day dedicated to them, do something extra special. You know they sure are good at showing how much they appreciate it.