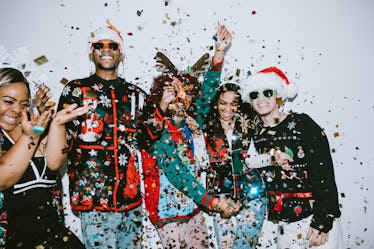 22 Christmas Song Lyrics For Instagram Captions That You Will Fa-La-La-La-Love
Forget the candy canes, snow, and lights all around. It just wouldn't feel like Christmas without those beloved holiday jams we hear every year. They can really put you in the right mood for the season. They remind you to keep "rockin' around the Christmas tree" as a "white Christmas" is right outside your window. It may be extremely difficult to choose, because there are just so many good ones, but everyone has their favorite Christmas song. When you're making memories and snapping pictures all month long, you can use Christmas song lyrics for Instagram captions.
You already have all of the songs playing on repeat, so they're right there for you to use. But if you need some inspiration, these 22 Christmas song lyrics are ready for any holiday pictures you want to post. Everyone will immediately know what you're talking about. Buddy the Elf said it best when he let everyone know, "The best way to spread Christmas cheer is singing loud for all to hear." So, spread that Christmas cheer with some lyrics that will totally have everyone singing along. "Let it snow, let it snow, let it snow" with some festive posts to your Instagram that will definitely make sure you "have yourself a merry little Christmas."
1. "Feeling Christmas all around, and I'm trying to play it cool" — Ariana Grande, "Santa Tell Me"
2. "Have yourself a merry little Christmas." — Judy Garland, "Have Yourself A Merry Little Christmas"
3. "If there is love in your heart and your mind, you will feel like Christmas all the time." — Faith Hill, "Where Are You Christmas"
4. "Baby, it's cold outside." — "Baby, It's Cold Outside"
5. "All I want for Christmas is you." — "All I Want For Christmas Is You"
6. "It's the most beautiful time of the year. Lights fill the streets, spreading so much cheer." — Justin Bieber, "Under The Mistletoe"
7. "I'm dreaming of a white Christmas." — Bing Crosby, "White Christmas"
8. "Under the mistletoe, watching the fire glow." — Taylor Swift, "Christmas Tree Farm"
9. "The party's on, the feeling's here. That only comes this time of year." — Paul McCartney, "Wonderful Christmastime"
10. "Every day's a holiday when I'm near you." — Carpenters, "Merry Christmas, Darling"
11. "I don't want a lot for Christmas. There is just one thing I need." — Mariah Carey, "All I Want For Christmas Is You"
12. "Do you want to build a snowman?" — Kristen Bell, "Do You Want To Build A Snowman?"
13. "It's Christmas in New York again." — Lea Michele, "Christmas In New York"
14. "I just want you for my own. More than you could ever know. Make my wish come true. All I want for Christmas is you." — Mariah Carey, "All I Want For Christmas Is You"
15. "When it seems the magic slipped away, we find it all again on Christmas Day." — Josh Groban, "Believe"
16. "I know exactly what I want this year. Santa, can you hear me?" — Britney Spears, "My Only Wish (This Year)"
17. "Rockin' around the Christmas tree, at the Christmas party hop." — "Rockin' Around The Christmas Tree"
18. "Christmas time means laughter." — Home Alone Children's Choir, "My Christmas Tree"
19. "Another year over, and a new one just begun" — John & Yoko/Plastic Ono Band with the Harlem Community Choir, "Happy Xmas (War Is Over)"
20. "Just look outside at all that snow. Got the Christmas spirit, ho ho ho!" — The Broadway Kids, "Christmas Gift Rap"
21. "We need a little Christmas now." — Angela Lansbury, "We Need A Little Christmas"
22. "It's the most wonderful time of the year." — Andy Williams, "It's The Most Wonderful Time Of The Year"
This article was originally published on