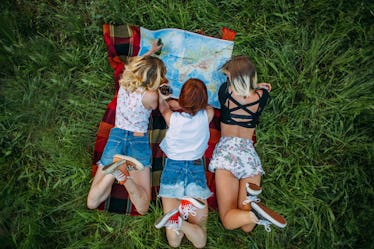 Pinterest's 2018 Travel Trends Reveal People Are Really Sweet On This Type Of Trip
Wanderlust means there's a huge part of you that wishes it could live vicariously through a map with ease. The deep desire to explore the world will always have such a powerful hold on you. Learning about what travelers are interested in doing or have already done fuels that fire in you even more — and it really comes in handy when you're able to actually get out and explore. The 2018 travel trends on Pinterest have been revealed, and they'll make you want to pack your bags and contribute to the stats, ASAP.
People may be pinning their travel dreams, but they're also sending hopeful travelers like yourself on many new adventures. There are countless amounts of hacks and tricks in regards to traveling, and you may never feel like you've learned them all. Falling into Pinterest limbo — when you can't stop re-pinning and sharing — is so worth it if it means you mentally sketch your ideal travel goals in the process.
Trends continue to evolve, and when it comes to traveling, it couldn't hurt to stay on top of what's considered an ultimate dreamy vacay. Pinterest never fails to impress the masses, so this year's travel trends will only make you want to pack your bags sooner rather than later, and hightail it to new adventures.