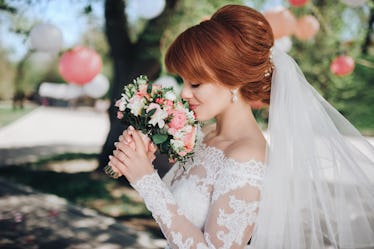 The 2018 Pinterest Wedding Trends Are Here & Brides Everywhere Are Falling In Love
Brides-to-be and hopeful romantics alike have spoken (or pinned, rather) by creating wedding boards that are seriously swoon-worthy. Pinterest allows you to envision your idea of the perfect wedding by simply dragging and pinning items like your fairy tale dress and the table decor, so that you can create major inspo for your big day. That endless amount of pinning means stats and reports that let you know what's hot for wedding cravings this year. Well, the 2018 Pinterest wedding trends have finally arrived — and one pin at a time, people from around the world have voiced what they deem to be admirable qualities for an amazing wedding.
If you're a bride and haven't sought out Pinterest for help, save yourself a few headaches and head over to this incredible site. There are plenty of ladies in your position trying to make their vision of a special day come to life. People use Pinterest for everything these days — but it's no mystery that it is a tremendous aid in planning out every single detail of a magical wedding. Thanks to the loyal traffic flow of wedding enthusiasts pinning on the site, trends can be tracked by Pinterest and relayed to the public. We are beyond #blessed, and this year's wedding trends will surely not disappoint.