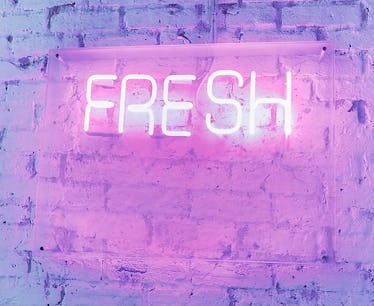 2018 Instagram Captions About New Beginnings For When You're Game To Start Anew
Whether or not 2017 was a good year for you, it's now on its way out the door, and here comes 2018. A new year is all about new beginnings and starting fresh. It's like a total reset button on your life, so you can leave your worries at the door and walk into January (hopefully) without any stress. When you step into the new year, you'll need some 2018 Instagram captions about new beginnings to mark the start of a new you.
Just like the start of every school year, you get to start over with a brand new classroom and awesome updated wardrobe. This is your chance to start 2018 with a clean slate. This could mean making a New Year's resolution or goal for the year to make sure you're living your best life. Either way, you can mark that fresh start with a 2018 selfie or Insta post dedicated to a new chapter. Every good beginning deserves a good caption, so we've assembled 24 quotes that get the job done. We hope this year will be the best you've ever seen. Hello 2018, we're ready to see you now.
1. "There are far better things ahead than any we leave behind." — C.S. Lewis
2. "And suddenly you just know it's time to start something new and trust the magic of beginnings." — Meister Eckhart
3. "So, I close my eyes to old ends. And open my heart to new beginnings." — Nick Frederickson
4. "Every new beginning comes from some other beginning's end." — Semisonic, "Closing Time"
5. "Today I close the door to the past, open the door to the future, take a deep breath, step on through and start a new chapter in my life." — Unknown
6. "New month. New beginning. New mindset. New focus. New start. New intentions. New results." — Unknown
7. "She loves the smell of coffees, bloomed roses, and new beginnings." — Sonia Azalia
8. "Just when the caterpillar thought the world was over, she became a butterfly." — Barbara Haines Howett
9. "I have decided that this will be a very good year." — Unknown
10. "Strength shows, not only in the ability to persist, but the ability to start over." — F. Scott Fitzgerald
11. "Where you movin'?" I said, "Onto better things." — Drake, "10 Bands"
12. "I stopped waiting for the light at the end of the tunnel and lit that b*tch up myself." — Unknown
13. "There comes a day when you realize turning the page is the best feeling in the world, because you realize there is so much more to the book than the page you were stuck on." — Zayn Malik
14. "And so the adventure begins." — Unknown
15. "Don't be afraid of new beginnings. Don't shy away from new people, new energy, new surroundings. Embrace new chances at happiness." — Billy Chapata
16. "It's okay to be scared. Being scared means you're about to do something really, really brave." — Mandy Hale
17. "This is the beginning, of anything you want." — Boy, "This Is The Beginning"
18. "The only way to make sense out of change is to plunge into it, move with it, and join the dance." — Alan W. Watts
19. "Never be afraid to start over. It's a chance to rebuild your life the way you wanted all along." — Unknown
20. "New year, new feels, new chances, same dreams, fresh starts." — Unknown
21. "12 new chapters, 365 new chances." — Unknown
22. "It's on. Time to make the magic happen." — Unknown
23. "What is coming is better than what is gone." — Arabic Proverb
24. "I watched it begin again." — Taylor Swift, "Begin Again"