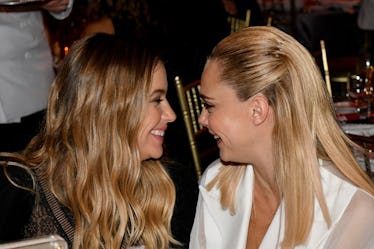 20 Gut-Wrenching Tweets About Ashley & Cara's Reported Breakup
Craig Barritt/Getty Images Entertainment/Getty Images
It is a sad, sad day, Cashley shippers. After nearly two years of dating, multiple sources reportedly confirmed to People and E! News on May 6 that Ashley Benson and Cara Delevingne decided to go their separate ways. (Elite Daily reached out to reps for Benson and Delevingne for comment but didn't hear back in time for publication. Neither Benson nor Delevingne has confirmed the breakup.) As you can probably expect, the internet isn't happy, and these tweets about Ashley Benson and Cara Delevingne's reported breakup are so heartbreaking.
"Cara and Ashley always had their ups and down before but it's over now," one source reportedly told People. "Their relationship just ran its course." What's worse: The couple apparently split a month before the news broke. Listen, Cara and Ashley — I'm not mad that you didn't tell me sooner. I'm just disappointed.
Ever since they connected on the set of Her Smell in April 2018, Delevingne and Benson have captured the hearts of fans everywhere, and TBH, I can barely remember what life was like before Cashley existed. Though I'm still holding out hope that the breakup is nothing more than a rumor, here are some tweets that capture just about everything I'm feeling right now.