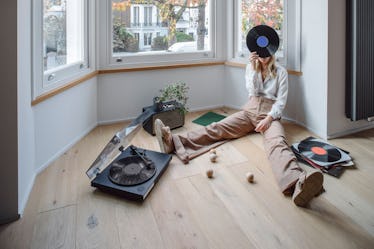 11 People Reveal The Song That Got Them Through Their Hardest Breakup
No matter who ended the relationship, going through a breakup can be really tough for everyone involved. You might feel a rollercoaster of emotions, from grief to relief. Everyone deals with heartbreak differently, but if music always makes you feel better, and you're looking for songs to help you get through a breakup, look no further. I scoured Reddit for first-hand experiences from real people who went through breakups themselves, and compiled the songs they turned to for solace during their own heartbreak recovery period. Because seriously, after a breakup, you deserve to lay in bed with your headphones in and just feel all the feels, and these songs can help you do just that.
Self-care is always important, but it's especially important following a breakup, or during any period of heartsickness. "One of the most important things to remember during a breakup is that heartbreak affects your physiology and your neurochemistry," Elle Huerta, CEO and founder of the breakup app Mend, previously told Elite Daily. "Going through a breakup feels like going through withdrawal, so it's really important in the early days to take extra care of yourself." Whether that's sleeping, eating good food, exercising, or whatever else, take time for yourself.
One of the easiest ways to practice self-care in the midst of a breakup is to turn up the bops that make you feel your very best. So, if you're ready to work through this breakup like the goddess you are, read on for the best songs to help you through it.