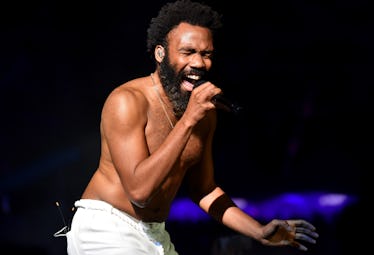 20 Songs That Confront Racial Injustice In The U.S. You Should Listen To Now
Jeff Kravitz/FilmMagic, Inc/Getty Images
They say art imitates life, and it couldn't be more true when it comes to the music industry. Now, more than ever, artists are penning songs that reflect the social issues affecting Americans. Rappers, pop stars, and ballad singers alike are churning out tracks that share a powerful message. And if you want to show support for the artists using their platform to speak out, take a listen to these 20 songs that confront racial injustice in the U.S.
It's always nice to see artists making music with a meaning, but these artists capitalized on their celebrity and influence to send a message and call for change. When stars stop playing it safe, and drop bold songs that call for an end to racism in America, more people stop and listen up.
Many of these songs are emotional, and a number focus on the senseless deaths of young Black men or women who were killed unjustly by white men and never got the justice they deserved, like George Floyd, Mike Brown, and Trayvon Martin. Most importantly, they all move the conversation forward when it comes to America's problem with racial inequality.