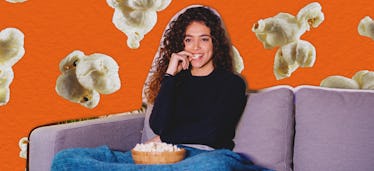 20 Shows Like 'Too Hot To Handle' To Satisfy Your Reality Show Needs
Stocksy
Too Hot To Handle had a wild concept, even for a dating show. Set at an idyllic resort, attractive, swimsuit-clad contestants couldn't touch each other for a month, or they risked losing money from their $100,000 grand prize. But it's not the only reality series out there to entertain viewers with steamy scenes, dramatic moments, and big twists. There are actually quite a few other shows like Too Hot To Handle out there that are similarly jaw-dropping and deserving of a spot on your watch list.
If you were a fan of the emotion-exploration side of Too Hot To Handle, you may enjoy the more raw look at relationships in TLC's 90 Day Fiancé or Netflix's Back With The Ex. If you're more into watching attractive singles wander around in their bathing suits all day, something like Bachelor in Paradise or Love Island might be more up your alley. If you want to see something a bit more game show-esque, Baggage might be your jam.
Long story short, even though Too Hot To Handle is wild in its own right, it's not like it's in a league of its own. Here are 21 other shows to get you started — many are available with a streaming subscription service or TV provider login.