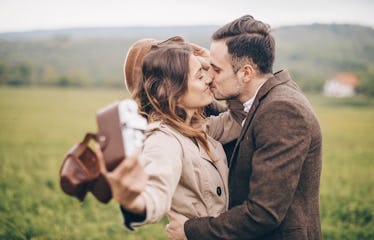 20 Instagram Captions For When You're In Love & Not Afraid To Show It
Shutterstock
Welcome to the L.O.V.E.L.E.S.S. generation, as Lorde calls it: People hook up. They casually date. They "see each other." They "hang out." But they don't often seem to fall in love. So, no wonder that when you do luck out and meet that perfect someone you fall head over heels for, you may be tempted to share your seemingly rare fortune on social media. If that's you right now, then consider using some of these Instagram captions for when you're in love.
And yes, while you may have read that being "Instagram official" is no longer a thing for some people, that doesn't mean you're prohibited from flaunting your happiness when you've found it. If that's your style, go for it. After all, meeting someone you love who also loves you back doesn't happen every day.
So, if you've found that special someone who turns usually reserved you into a human koala bear, affectionately clinging onto them as if they were a bamboo tree, don't force yourself to hide it. Be proud of how nauseatingly cute you and your partner look on Instagram. And remember — for every cute love story out there, there's an equally cute caption to match it.