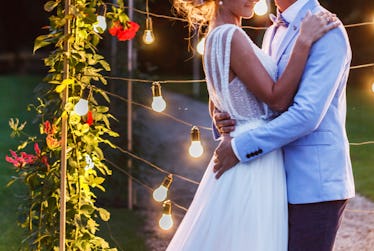 20 Instagram Captions For Summer Weddings, Because Love Is In The Air
Sparks are flying and love is in the air. Summertime might as well be re-named "Wedding Season." Whether you're gearing up to be the maid of honor at your bestie's beach wedding (Seriously, so exciting!) or you're attending a chic barn reception as your partner's plus one, all weddings are magical. Just think about all of the sweet Instagram captions for summer weddings, so you can preserve those special memories forever. Besides, what makes a better Instagram post than you looking gorgeous AF in a fancy dress, popping champagne with the squad, and dancing the night away with love literally all around you?
Whether you prefer witty and punny captions, or ones that are more on the sentimental side, (Insert: me tearing up at a literal Instagram caption.) I've narrowed down my all-time favorite ones. For full-on #InstagramGoals, be sure to pair your caption with an equally-as-amazing wedding hashtag.
1. "It's been an emotional day, even the cake is in tiers." — Unknown
2. "Two less fish in the sea!" — Unknown
3. "These two mer-maid for each other." — Unknown (This one is perfect for a beach-side wedding.)
4. "And in the end, the love you take is equal to the love you make." — The Beatles
5. "The best kind of wedding is one that leaves your bellies (and hearts) full." — Unknown
6. "Love recognizes no barriers. It jumps hurdles, leaps fences, penetrates walls to arrive at its destination full of hope." — Maya Angelou
7. "Oh I don't mind going to weddings, just as long as it's not my own..." — Tom Waits
8. "All you need is love." — The Beatles
9. "Passion makes the world go 'round. Love just makes it a safer place." — Ice T
10. "Bride tribe." — Unknown
11. "Pop the bubbly, she's getting a hubby." — Unknown
12. "We didn't realize we were making memories, we just knew we were having fun." — Winnie The Pooh
13. "You two were love at first swipe and I knew it all along." — Unknown
14. "When you realize you want to spend the rest of your life with somebody, you want the rest of your life to start as soon as possible." —Harry, When Harry Met Sally
15. "Thanks for the memories... and the delicious wedding cake I got to eat. And the open bar, too." — Unknown
16. "Any woman can wear a great outfit, but it is her nails that make the statement." — Tammy Taylor
17. "Fill up my cup, Mazel Tov!" — The Black Eyed Peas, "I Gotta Feeling"
18. "What's not to love about love and an open bar?" — Unknown
19. "American Horror Story: Adulting. I'm not ready, but I'm glad @Bride and @Groom are so I don't have to grow up yet!" — Unknown (If you're a kid at heart & everyone knows it.)
20. "So, does this mean I don't have to be the mom of the friend group anymore?" — Unknown
The next time you're getting ready to go to a summer wedding, remember to get your phone out and snap away some amazing memories. Be sure to have these clever captions on hand!