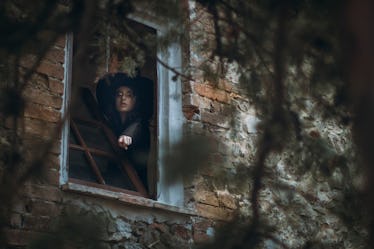 20 Insta Captions For Haunted Houses That Will Spook The Sh*t Out Of Your Squad
You know that feeling when your stomach completely drops, and a cold sweat comes upon you? It's the eerie feeling you get right before you're about to step into a haunted house. You push your friends ahead of you, but then realize you don't want to be at the end... because who the heck knows what's lurking behind you in the dark. It's all nerves until you step inside, and the fun begins. Haunted houses, real or staged, are some of my favorite Halloween activities. I'm a big ole baby about it, but that doesn't stop me from being a major fan. I guess I love the adrenaline rush that comes along with having something jump out and scare the sh*t out of you. When you finally survive and exit the house, you're overcome with laughter at how ridiculous you just reacted to everything. Don't forget to snap an "I did it" picture with your crew, complete with some of the perfect Instagram captions for haunted houses.
You'll want to brag to everyone that you made it through like a champ, even if you were screaming the entire time. You don't have to share that information with any of your Instagram followers, unless you happen to snag a pic inside with you overreacting at something spooky. There's no doubt that picture will be priceless, and you have to justify your reaction with an Instagram caption that sends chills down your followers' spines. If you need help setting the right kind of mood, here are 20 scare-worthy Instagram captions you can use to accompany any haunted house pictures you take this Halloween. Be careful out there. It's frightfully scary.
1. "She herself is a haunted house." -- Angela Carter
2. "Once upon a midnight dreary, while I pondered, weak and weary." -- Edgar Allan Poe, The Raven
3. "Darling, the only ghoul in the house is you." -- House on Haunted Hill
4. "Something wicked this way comes." -- William Shakespeare
5. "When hinges creak in doorless chambers, and strange and frightening sounds echo through the halls. Whenever candlelights flicker where the air is deathly still -- that is the time when ghosts are present, practicing their terror with ghoulish delight!" -- Haunted Mansion (Disneyland)
6. "If you are reading this then you are blissfully unaware of what is creeping up behind you." -- Unknown
7. "This chamber has no windows and no doors. Which offers you this chilling challenge: to find a way out." -- Haunted Mansion (Disneyland)
8. "Tomb sweet tomb." -- Unknown
9. "We have 999 happy haunts here but there's always room for a thousand. Any volunteers?" -- Haunted Mansion (Disneyland)
10. "Ghosts & goblins, spooks galore. Scary witches at your door. Jack-o-lanterns shining bright. Wishing you a haunting night." -- Unknown
11. "Shrouded in a daft disguise. They pretend to terrorize. Grim grinning ghosts come out to socialize." - Haunted Mansion (Disneyland)
12. "Welcome, foolish mortals, to the Haunted Mansion." -- Haunted Mansion (Disneyland)
13. "Beware of hitchhiking ghosts." -- Haunted Mansion (Disneyland)
14. "And though you fight to stay alive, your body starts to shiver. For no mere mortal can resist. The evil of the thriller." -- Vincent Price, Thriller
15. "Pumpkin light and moon so bright; perfect night for making a fright." -- Rusty Fischer
16. "Darkness there, and nothing more." -- Edgar Allan Poe, The Raven
17. "Hist and hark. Draw close and tremble. 'Tis this night that ghosts assemble." -- Unknown
18. "If one door closes and another one opens, your house is probably haunted." -- Unknown
19. "It's okay to be scared. Being scared means you're about to do something really, really brave." -- Mindy Hale
20. "Do you dare enter the witch's lair?" -- Unknown
Check out the entire Gen Why series and othervideos on Facebook and the Bustle app across Apple TV, Roku, and Amazon FireTV.