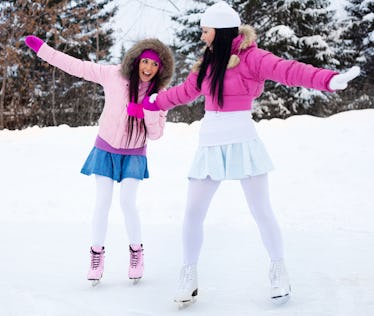 20 Ice Skating Captions That'll Have You & Your Girlfriends Gliding Through The Season
No matter how old you get, ice skating will always be a magical experience. I mean, come on now, you're skating on frozen water. How sick is that? The wanderlust is endless when it comes to exploring new ice rinks, and you and your girls are always game for those adorable candid shots. The ice skating captions you decide to put up on any of your social media accounts have to be on point and describe that frozen moment of time.
There's something about ice skating around the holidays that's particularly special. Usually there are plenty of decorations surrounding you, and as you effortlessly glide across the ice you feel a tremendous amount of holiday spirit that you simply can't shake. You feel extremely weightless like a snow angel in skates.
If you live in an area that doesn't get any snow during the holiday season, the ice skating rink is your little escape to frozen euphoria. It's a great experience to hit the ice with your friends, and because we can't help but broadcast about how iconic of a time it was, we've got to post the moment on one, or all, of our handles. So, before you and your ladies glide the day away on the ice, think about a caption that'll give your followers a little taste of what the skating adventure meant to you.
1. "If you're skating on thin ice, you might as well dance." — Anita Shreve
2. "We ride together, we glide together. Bad girls for life." — Unknown
3. "They say blood is thicker than water, but I say ice, can be more solid than blood, when times get cold." — Anthony Liccione
4. "You play on the ice... you get what you should get." — Deyth Banger
5. "It doesn't matter what happens in life; the ice is always there. It is our life, our sanctuary, and our passion." — Unknown
6. "Skating is an amazing form of self expression. It's like my soul at play." — Josee Chouinard
7. "Learn to dance in the storm so when life hands you a stormy weather, you just glide through it." — Ikechukwu Izuakor
8. "Silently, like thoughts that come and go, the snowflakes fall, each one a gem." — William Hamilton Gibson
9. "People are always good company when they are doing what they really enjoy." — Samuel Butler
10. "It's not what we have in life, but who we have in our life that matters." — Unknown
11. "Even though you're growing up, you should never stop having fun." — Nina Dobrev
12. "Never, ever underestimate the importance of having fun." — Randy Pausch
13. "Life is either a daring adventure or nothing at all." — Helen Keller
14. "I am going to keep having fun every day I have left, because there is no other way of life. You just have to decide whether you are a Tigger or an Eeyore." — Randy Pausch
15. "There's power in looking silly and not caring that you do." — Amy Poehler
16. "You have to enjoy life. Always be surrounded by people that you like, people who have a nice conversation. There are so many positive things to think about." — Sophia Loren
17. "My belief is that we were put into this world of wonders and beauty with a special ability to appreciate them, in some cases to have the fun of taking a hand in developing them, and also in being able to help other people instead of overreaching them and, through it all, to enjoy life — that is, to be happy." — Robert Baden-Powell
18."I just thought that it was magical having to glide across the ice." — Debi Thomas
19. "Happiness cannot be traveled to, owned, earned, worn or consumed. Happiness is the spiritual experience of living every minute with love, grace, and gratitude." — Dennis Waitley
20. "A single rose can be my garden... a single friend, my world." — Leo Buscaglia