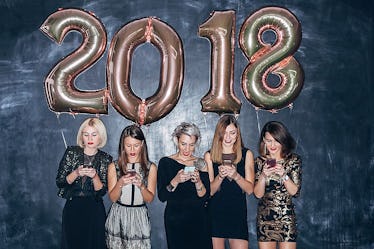 20 Dirty Texts To Send On NYE To Your Hookup Buddy To Ride Your Way Into 2018
New Year's Eve is almost here, and while you may be seriously considering all the things that you need to let go of in 2018 (toxic friends, sucky jobs, terrible fads from 2017), there are just as many things you should resolve to hang on to — including your favorite hookup buddy. Hey, a good hookup buddy who knows how to get it done and not catch feelings is a precious thing! To make sure you are both on the same page as the clock strikes midnight, it's good to have a few dirty texts for New Year's Eve ready to send your FWB. That way, they know you want them to stick around in 2018. (And you know, you might want to make sure you end the night with some horizontal fireworks of your own.)
While your hookup-text game is probably plenty strong the rest of the year, you want to mix it up on NYE. After all, it's a special occasion, so just like with everything else you have planned for the night, it's fun to keep even your hookup-texts holiday-themed. You want to send something that says, "Just because the calendar isn't rolling over, doesn't mean I want to stop rolling over you." Here is some extra NYE text inspo to get you started.
1. "All this champagne is making me thirsty, if you know what I am sayin'. 🍾😜"
2. "Watching the ball drop is making me think of something else I'd like to see go down.😘"
3. "I got 99 things I need to change in 2018… but hooking up with you ain't one."
4. "Where's the New Year's Eve party at? I'm gonna send you a Lyft."
5. "My New Year's resolution is to eat more vegetables, starting with your 🍆 [or 🍑]."
6. "Yo, I just watched that ball drop down that 141-foot-long pole…. are you thinking what I'm thinking? 😘"
7. "My New Year's resolution is to do more cardio — on top of you."
8. "Come over and let me show you some real New Year's Eve 💥 fireworks💥"
9. "Happy New Year! Here's to making better bad decisions in 2018... in bed... with you."
10. "Yo, cutie, wanna end 2017 with a bang?"
11. "The New Year's tradition is to kiss at midnight, but there are no rules on where to kiss me, if you know what I'm sayin'. 😜"
12. "My 2018 resolution is to stop giving f*cks — except, like, actual, literal f*cks. I guess what I'm trying to say is, u up?"
13. "Just saw your Insta post, and you are 🔥🔥🔥! I think you just officially moved to the top of my 2018 New Year's resolution to-do list."
14. "Hey you, why don't you get over here so we can hurry up and start off 2018 with a bang."
15. "Get over here by midnight, and I'll let you pop my cork. 🍾🍾🍾"
16. "Hey U... hurry up and get over here, the ball is about to drop — and by ball, I mean my pants."
17. "My 2017 New Year's resolution was to end the year on top, so get your fine 🍑 over here and help me achieve that goal."
18. "Yo, get over here ASAP, because my inhibitions are dropping faster than the ball in Times Square."
19. "Hey, 2018 is coming... want to come with it? 😜"
20. "Happy New Year. Wanna f*ck? 😘"
Because sometimes, honesty really is the best policy.
New Year's Eve may be the time of year where you make a lot of changes, but these texts make sure that, as you're getting over 2017, you're still going to be getting under your favorite hookup buddy. Now that's what I call a Happy New Year.
Check out the entire Gen Why series and other videos on Facebook and the Bustle app across Apple TV, Roku, and Amazon Fire TV.
Check out the "Best of Elite Daily" stream in the Bustle App for more stories just like this!