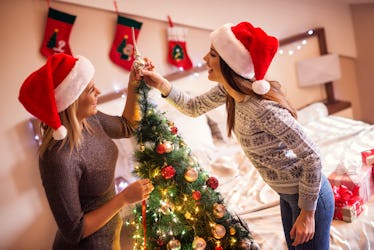 20 Christmas Decoration Instagram Captions For Santa's Helpers
Christmas trees and festive garlands are beginning to pop up in living rooms everywhere. Decorating is like the starting point to the incredible holidays to come. If you're usually the one who's dusting off the box of Christmas ornaments, you're probably the same person who's searching for Christmas decoration Instagram captions, because you already know your tree is about to way more than just lit.
You're the one who puts in the hard work and handles your tree with so much TLC, that if it suddenly came to life, it would hands down be your BFF. Just like how the tree is never really complete without those finishing touches at the top, a picture of your tree on Instagram is basically naked without a complementing caption to go with it. It's all about following through, and your tree deserves all of your energy, even after you are done decorating it.
No matter what, your tree is going to be incredibly fabulous. That's why it obvi has to make a social media appearance in some way, shape, or form. And if it were up to you, you'd have this baby up all year long and walk around like a proud mama.
Sadly, since the holiday season comes and goes so quickly, pictures are a little way of reminding us how we chose to celebrate and decorate. Each year seems more magical than the last, and social media plays as a sort of time capsule for all that goes down. Since you'll be so busy coordinating your tree's theme for that eye-catching decor, snag an Instagram caption in advance that'll send the message home.
1. "I grew up with a Christmas tree, I'm going to stay with a Christmas tree." — Thomas Menino
2. "The perfect Christmas tree? All Christmas trees are perfect." — Charles N. Barnard
3. "Some Christmas tree ornaments do more than glitter and glow, they represent a gift of love given a long time ago." — Tom Baker
4. "The best Christmas trees come very close to exceeding nature." — Andy Rooney
5. "Never worry about the size of your Christmas tree. In the eyes of children, they are all 30 feet tall." — Larry Wilde
6. "Christmas is too sparkly... said no one ever." — Unknown
7. "The tree isn't the only thing getting lit this year." — Unknown
8. "Christmas makes me happy no matter what time of year it comes around." — Bryan White
9. "Christmas isn't a season. It's a feeling." — Edna Ferber
10. "I wish we could put up some of the Christmas spirit in jars and open a jar of it every month." — Harlan Miller
11. "Christmas waves a magic wand over this world, and behold, everything is softer and more beautiful." — Norman Vincent Peale
12. "Maybe Christmas, he thought, doesn't come from a store. Maybe Christmas... perhaps... means a little bit more!" — The Grinch
13. "Don't get your tinsel in a tangle." — Unknown
14. "Christmas lights instantly make me feel like eight years old again." — Unknown
15. "I love Christmas, not just because of the presents but because of all the decorations and lights and the warmth of the season." — Ashley Tisdale
16. "It is the season to sparkle." — Unknown
17. "Keep calm and wait for Christmas." — Unknown
18."The smells of Christmas are the smells of childhood." — Richard Paul Evans
19. "Christmas is a necessity. There has to be at least one day of the year to remind us that we're here for something else besides ourselves." — Eric Sevareid
20. "Gifts of time and love are surely the basic ingredients of a truly merry Christmas." — Peg Bracken
Whether you were the main trailblazer this year or simply followed orders, your Christmas tree deserves a spotlight — you know, aside from the vibrant ones you have so gracefully placed all around it.