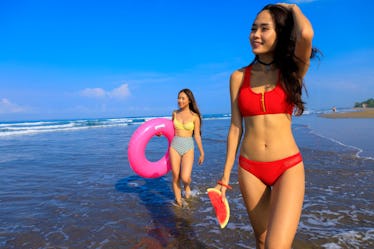 20 Beach Quotes & Sayings That'll Help You Seas The Day On Your 'Gram
Summer's here, and the beach is calling. The ring sounds more like ocean waves crashing, but nevertheless, you have to pick up. The perfect summer day filled with sand between your toes, and sun shining down on you is right there waiting, and with long weekends coming up — like Memorial Day on May 28 — you'll want to pack your bags and head to the shore. When you're getting your beach bag organized, don't forget beach quotes and sayings for all of the Instagram pics you take.
There will be tons of fun to capture throughout the weekend, like floating the day away with your besties, building sandcastles with bae, and fab sunglasses selfies in your new monokini. Don't let those photos go unnoticed, and post them right away with any of these 20 quotes about the beach. Any of them will serve as the perfect caption to describe how you're feeling about the sun, surf, and sand.
Not only will you be having too much fun with your friends on your beach day to stop and come up with a caption on your own, but the perfect words to capture exactly how you feel will be too difficult to put together. That's why sometimes, it's OK to let someone else do the talking, with a beach saying that just rings true.
1. "The ocean is everything I want to be. Beautiful, mysterious, wild, and free." — Unknown
2. "At the beach, life is different. Time doesn't move hour to hour, but mood to moment. We live by the currents, plan by the tides, and follow the sun." — Unknown
3. "She loved the sea. She liked the sharp salty smell of the air, and the vastness of the horizons bounded only by a vault of azure sky above. It made her feel small, but free as well." — George R. R. Martin
4. "I could never stay long enough on the shore; the tang of the untainted, fresh, and free sea air was like a cool, quieting thought." — Helen Keller
5. "My life is like a stroll upon the beach, as near to the ocean's edge as I can go" — Henry David Thoreau
6. "Life's just right with the beach in sight." — Unknown
7. "Nothing soothes the soul like a walk on the beach." — Unknown
8. "You can never have too much beach." — Unknown
9. "Smell the sea and feel the sky, Let your soul and spirit fly." — Van Morrison, "Into The Mystic"
10. "We are tied to the ocean. And when we go back to the sea, whether it is to sail or to watch – we are going back from whence we came." — John F Kennedy
11. "Eternity begins and ends with the ocean's tides." — Unknown
12. "It's hard for me to put into words why I like the beach so much. Everything about it is renewing for me, almost like therapy... beach therapy." — Amy Dykens
13. "The tans will fade but the memories will last forever." — Unknown
14. "Always keep a little ocean in your heart." — Unknown
15. "A woman's heart is a deep ocean of secrets." — Titanic
16. "To escape and sit quietly on the beach — that's my idea of paradise." — Emilia Wickstead
17. "I typically enjoy a beautiful beach destination, as I find the water and sand to be the most replenishing." — Elizabeth Berkley
18. "I like anywhere with a beach. A beach and warm weather is all I really need." — Rob Gronkowski
19. "Let the sea set you free." — Unknown
20. "Always keep a little beach day in your heart." — Unknown