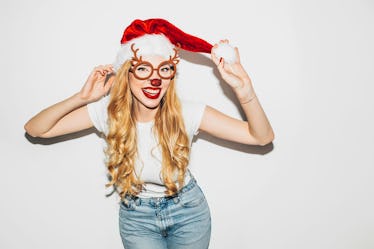 19 Best Captions For SantaCon Pics, Because You're Ready To Jingle All The Way
SantaCon 2018 is right around the corner, so for those of you who are 21 and up, get your ugly Christmas sweaters and Santa hats ready to sleigh all day. SantaCon is a festive affair that takes place across the globe in cities like New York City and Boston, all the way to Munich, Germany. This is an event where people dress up like Santa Claus, Mrs. Claus, elves, reindeer, polar bears, snowmen, and the like to ring in the holiday season at some of their favorite bars. If you're partaking in the festivities this year, grab your Santa costume ASAP and don't forget to pose for pics throughout the day. Use any of these best captions for SantaCon when you post on the 'Gram, because you'll want to remember this celebration forever.
This event gives adults the chance to ring in the magic of the holidays in the most festive garb. After all, how often do you get the chance to rock an all-out elf costume with your best friend? You can attend SantaCon with family, friends, or even by yourself. Whatever you decide on, you're bound to have a jolly good time.
1. "Just here for the candy canes."
2. "We elves try to stick to the four main food groups: candy, candy canes, candy corns, and syrup." — Buddy, Elf
3. "It came without ribbons. It came without tags. It came without packages, boxes, or bags." — Dr. Seuss, How the Grinch Stole Christmas
4. "I stopped believing in Santa Claus when I was six. Mother took me to see him in a department store and he asked for my autograph." — Shirley Temple
5. "Ready to sleigh the day with this crew."
6. "All the world is happy when Santa Claus comes." — Maud Lindsay
7. "He sees you when you're sleeping. Knows when you're awake. He knows if you've been bad or good. So be good for goodness sake." — Perry Como, "Santa Claus Is Comin' to Town"
8. "SantaCon is always a good idea."
9. "There's nothing sadder in this world than to awake Christmas morning and not be a child." — Erma Bombeck
10. "Some people are worth melting for." — Olaf, Frozen
11. "Let's dress up like Santa Claus and dash through the snowy streets of New York City."
12. "Next year I could be just as good, if you'll check off my Christmas list." — Eartha Kitt, "Santa Baby"
13. "Been an awful good girl. Santa baby, so hurry down the chimney tonight." — Eartha Kitt, "Santa Baby"
14. "No Grinches allowed."
15. "I'm dreaming of a white Christmas. But if the white runs out, I'll drink the red."
16. "Dressed like Santa with family and friends. Why does SantaCon ever have to end?"
17. "Cheers, Grinches."
18. "Have yourself a merry little Christmas." — Judy Garland, "Have Yourself a Merry Little Christmas"
19. "I should be playing in the winter snow, but I'ma be under the mistletoe. With you, shawty with you." — Justin Bieber, "Mistletoe"